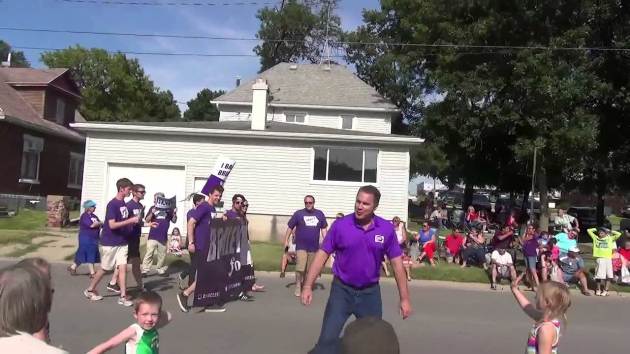 Rep. Bruce Braley, a trial lawyer and Democratic nominee for U.S. Senate in Iowa, has single-handedly shifted a race once considered "Leans Democrat" to a borderline "Leans Republican" contest. In March, Braley was caught on video trashing Iowa farmers and the extremely popular Republican incumbent Senator Chuck Grassley, a mistake he could not afford to duplicate after Republicans nominated a solid candidate, Joni Ernst.
Now, a video shared with the Des Moines Register shows Braley claiming to be a farmer during a 4th of July parade at Iowa Falls over the weekend.
"We're farmers," an attendee and likely voter says to Braley as he approaches. "So am I," he answers.
"But so is Grassley," the woman returns as she sits in a lawn chair on the side of the road. "So am I," Braley again claims with a remarkably smug tone.
Of course, Mr. Braley is a trial lawyer, a profession he arrogantly trumpeted makes him more qualified to serve in the Senate, not a farmer. Jennifer Jacobs of the DMR dug into Braley's latest claim.
"He doesn't own farm land and doesn't earn any farm income, according to his federal financial disclosure reports," " Jacobs noted. "He doesn't perform or manage any farm operations, campaign aides said today."
Republicans, who have been waiting for another blunder like this to break Ernst out in the polls, were quick to pounce on Braley.
"Bruce Braley continues to offend farmers, this time actually brazenly (and falsely) claiming to be one of them," said NRSC Press Secretary Brook Hougesen. "This isn't the first time Bruce Braley has been dishonest with voters, and again there's video that proves he's willing to say just about anything by pretending to be something he is not."
Ironically, several other pundits doubted Ernst's ability to win the Iowa Senate race based upon candidate quality, justifying their "Leans Democrat" rating on the possibility the Republican nominee wasn't yet ready for primetime. And, while the majority of media outlets chose to focus on the potential for a toxic primary, which did not occur, nearly all of them failed to see the danger in the Democratic Party's tendency to have party bosses pick nominees. If an untested candidate makes a mistake, then the party is stuck with a flawed candidate, a category Braley increasingly appears to belong in.
We recently witnessed just how politicly treacherous lock-stepping with Democratic Party bosses can be in Florida's 13th Congressional District, where Republican David Jolly scored an upset victory over the party-picked Alex Sink. After Sink decided to sit out a rematch, party bosses pressured local NAACP chapter President Manuel Sykes to drop out of the race, opting instead to get behind independent Ed Jany, who was really a Republican until he turned Democrat posing as an independent. When Jany dropped out of the race, admitting he wasn't ready for primetime, a once competitive (if not Leans Democrat") seat was quickly moved out of the contested column.
People's Pundit Daily affirmed our "Toss-Up" rating after we revisited our election projection model immediately following the Republican primary. Republican Joni Ernst is and, always was, a credible threat to what was a Democratic held seat. If Ernst defeats Democratic Rep. Bruce Braley, then she will become the first female U.S. Senator to represent the state of Iowa, leaving Mississippi as the sole state yet to elect a women to the U.S. Senate.
PPD is leaving the rating as it is, for now. However, Braley could not afford another gaffe, leaving us with little choice but to revisit the Iowa Senate race far sooner than we had previously anticipated.
| | | | | | | |
| --- | --- | --- | --- | --- | --- | --- |
| PPD Average | 5/15 – 6/16 | — | — | 43.8 | 43.0 | Braley +0.8 |
| Quinnipiac | 6/12 – 6/16 | 1277 RV | 2.7 | 44 | 40 | Braley +4 |
| Loras College | 6/4 – 6/5 | 600 LV | 4.0 | 42 | 48 | Ernst +6 |
| Rasmussen Reports | 6/4 – 6/5 | 750 LV | 4.0 | 44 | 45 | Ernst +1 |
| PPP (D) | 5/15 – 5/19 | 914 RV | 3.3 | 45 | 39 | Braley +6 |