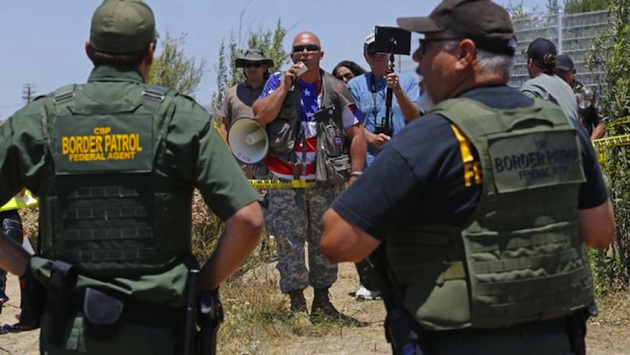 A Border Patrol union confirmed that many of the illegal immigrants coming into the U.S. have "active scabies and other illnesses," and are claiming one agent already contracted the mite-borne skin infection. The union is warning disease could spread into surrounding communities and others — like the community in Murrieta, California, which turned back busloads being transported by DHS in early July — if precautions are not taken.
Counter-protestors and other proponents of a so-called pathway to citizenship claimed the Murrieta protestors brought shame on their town, but new information suggests they may have spared them an unpleasant outbreak, or worse.
The union warning comes amid a report from Todd Starnes claiming sources said at least 4 cases of tuberculosis have been confirmed at one camp in San Antonio, Texas. The latest report added to Gov. Rick Perry's testimony last week that confirmed at least one case of H1N1, otherwise known as the swine flu.
Large numbers of illegal immigrants, many of which are minors, are crossing the U.S.-Mexico border after paying human traffickers for passage from various Central American countries. While they are being detained in Texas and other states, the government plans to fly and bus them into several different U.S. cities, including San Diego and Phoenix.
The San Diego Local 1613 chapter of the National Border Patrol Council has offered a glimpse into the truth regarding the situation on the ground, which the government has gone through great lengths to try to conceal from the American people.
"Border Patrol management is aware of the scabies outbreak but continue to ignore recommendations," wrote Ronald Zermeno, the health and safety director for the San Diego chapter in a July 4 letter.
He added that one of their agents, who had been screening detainees even though he is not a medical professional, had contracted scabies "sometime during routine processing of the first group of 140 illegal immigrants from Texas."
"He observed several people with open sores and which he recorded on the questionnaire," Zermeno wrote. "He was not told about any precautions to take such as decontamination of himself and uniform. This demonstrates that we are not properly trained to identify infectious disease and to properly respond when we suspect a disease."
He added that agents do not know which detainee may have passed on the illness, and said they suspect "they could have been already transferred to ICE custody and may have already been released in the surrounding communities."
The CDC says scabies is a rapidly spreading infection that results from a human itch mite that burrows into the top layer of a person's skin and lays its eggs. Symptoms include severe itching and a skin rash.
Zermeno strongly suggested to the government they should not release detainees while they await deportation hearings, as the Obama administration has been for weeks. Or, Zermeno wrote, detainees should at least be quarantined before release "to ensure that they will not transfer infectious diseases such as scabies into our communities."
As severe as scabies may be, other reported diseases, which potentially have spread to American communities already, are far worse.
"Some of the tuberculosis that comes from Central America is drug resistant," Dr. Marc Siegel, a professor of medicine at New York University's Langone Medical Center, told Todd Starnes. "It's not easier to spread but it is harder to treat. I'm concerned about that."
"It is a disease that needs to be carefully monitored and screened for — something that is not possible under the current circumstances," Siegel said.
Nurses caring for illegal immigrants at Lackland in San Antonio, told Starnes they know of at least four teenagers in their camp who have a confirmed case of tuberculosis.
"The nurses are telling us the kids are really sick," the source told Starnes. "The tuberculosis is definitely there."
Several lawmakers have been denied access to the facilities, leading many to conclude disease was intentionally being swept under the rug. Last month, the National Association of Former Border Patrol Officers called the refugee crisis an "orchestrated and contrived assault" by a government with an agenda. A new survey found the American people agree, as nearly half of U.S. voters believe the Obama administration has caused the wave of illegal immigrants at the border, and most Americans want them sent back home immediately.
Instead, the Obama administration is planning on relaxing penalties for border crossings even further.