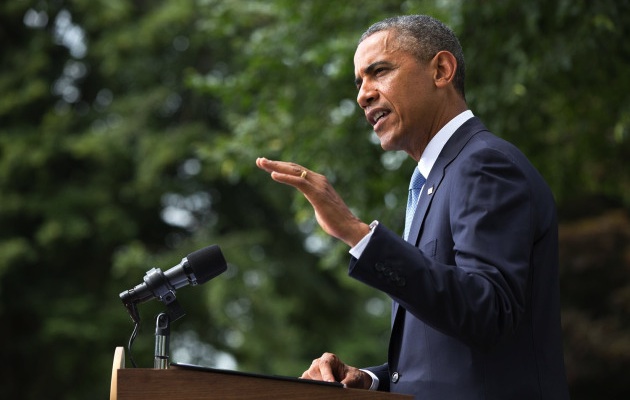 President Obama is taking criticism for statements he made today when speaking on the current situation in Ukraine, and the latest conflict in the Gaza Strip. Critics say the president is talking out of both sides of his mouth, again.
"As I've said many times, Israel has a right to defend itself against rocket and tunnel attacks from Hamas," Obama said. "I've also said, however, that we have serious concerns about the rising number of Palestinian civilian deaths and the loss of Israeli lives."
The president and Sec. John Kerry, who has been dispatched to the Middle East to broker a cease-fire, have both expressed support for the Israeli offensive while undermining the U.S. ally in the same breath.
"And that is why it now has to be our focus and the focus of the international community to bring about a cease-fire that ends the fighting and that can stop the deaths of innocent civilians, both in Gaza and in Israel," Obama said.
Meanwhile, Kerry was caught on an open mic moment Sunday while doing the talking show rounds, which was only challenged by Chris Wallace during his interview on Fox News Sunday.
"It's a hell of a pinpoint operation. It's a hell of a pinpoint operation," he said in a sarcastic tone. Kerry also went on to say Israel had the right to target the under-reported terror tunnels, and further declared the U.S. supported those efforts.
"You have a right to go in and take out those tunnels," he said. "We completely support that and we support Israel's right to defend itself against rockets that are continuing to come in."
The "terror tunnels" used by Hamas, the Israeli military said in a statement on Friday, are "complex and advanced." Hamas uses the tunnels, according to officials, "to carry out attacks such as abductions of Israeli civilians and soldiers alike; infiltrations into Israeli communities, mass murders and hostage-taking scenarios."
Comments from both Kerry and Obama could easily be seen as those made by two officials unaware of the fact Hamas refused to accept the terms of two cease-fire deals brokered by Egypt. Further, two temporary cease-fire deals have been broken by Hamas despite the humanitarian concerns.
"It is important for Hamas to now step up and be reasonable and understand that you accept the cease-fire, you save lives," he said "And that's the way we can proceed to have a discussion about all of the underlying issues," Kerry said.
The president was also criticized for his comments on the conflict in Ukraine and Russia's evident entanglement with separatists who shot Malaysian Airlines MH17 out of sky, killing the nearly 300 passengers on board.
The President restated today that "our immediate focus is on recovering those who were lost, investigating exactly what happened, and putting forward the facts. We have to make sure that the truth is out and that accountability exists."
Obama also conceded that he would pursue a diplomatic solution to the situation in Ukraine.
He also noted that international investigators are already on the ground, prepared and organized to conduct "the kinds of protocols and scouring and collecting of evidence that should follow any international incident like this." President Obama then called on Russia — and President Vladimir Putin in particular — to "insist that the separatists stop tampering with the evidence, [and] grant investigators who are already on the ground immediate, full, and unimpeded access to the crash site."