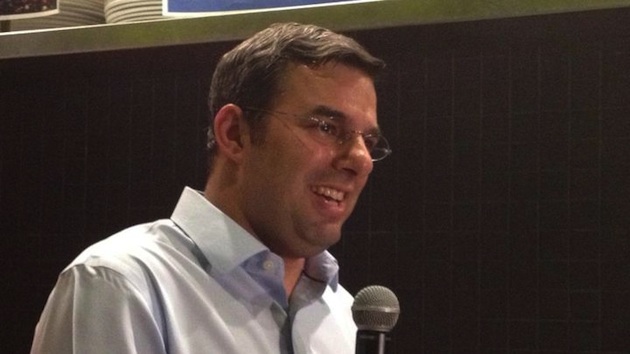 In his victory speech Tuesday night, libertarian-leaning Republican Rep. Justin Amash, slammed the Chamber of Commerce lobbyist who ran what was called "the nastiest in the country."
"You are a disgrace," Rep. Amash said to former congressman Pete Hoekstra. "And I'm glad we could hand you one more loss before you fade into total obscurity and irrelevance."
Hoekstra, who backed Chamber of Commerce challenger Brian Ellis, is a career loser in Michigan's statewide and national politics. He lost the state's winnable 2012 Senate race against Democrat Sen. Debbie Stabenow after he ran a terrible ad depicting a Chinese girl saying, "thank you Debbie Spend-It-Now." He also lost in the 2010 gubernatorial primary against now-Gov. Rick Snyder, who is favored to win reelection in Nov.
"You owe my family and this community an apology for your disgusting, despicable smear campaign," he said addressing Ellis, his opponent. "You had the audacity to try and call me today after running a campaign that was called the nastiest in the country. I ran for office to stop people like you."
In one ad, Ellis went as far as to quote Rep. Devin Nunes (R-CA), who labeled Amash "Al Qaeda's best friend in Congress."
Amash, who is Arab-American, addressed the despicable comment in a post-speech interview. "I'm an Arab-American, and he has the audacity to say I'm al-Qaeda's best friend in Congress?" Amash said.
"That's pretty disgusting."