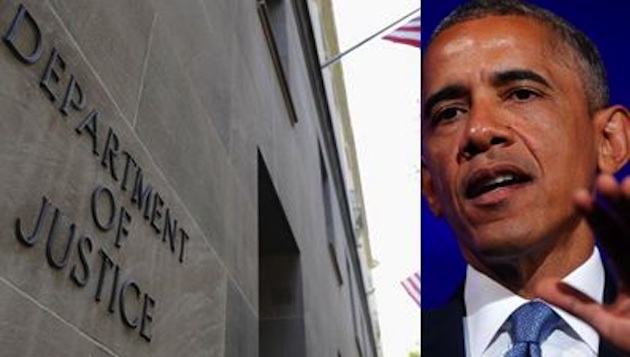 Two White House press secretaries have claimed the Obama administration is "the most transparent administration in history," but 47 out of the government's 73 independent watchdog groups disagree. According to each federal Inspectors General, the administration is instructing government lawyers to challenge their authority to investigate incompetence, waster, fraud, and corruption specifically granted in Section 6(a)(1) of the Inspector General Act of 1977.
Now, in an unprecedented move, the are making a plea to Congress for help, stressing three particular government agencies that have been more than uncooperative under the Obama administration.
"The undersigned federal Inspectors General write regarding the serious limitations on access to records that have recently impeded the work of Inspectors General at the Peace Corps, the Environmental Protection Agency, and the Department of Justice," the letter stated.
The Inspector General Act of 1977 grants "complete, unfiltered, and timely access to all information and materials … without unreasonable administrative burdens." However, in each of the specific instances, administration lawyers in these agencies "construed other statutes and law applicable to privilege in a manner that would override the express authorization contained in the IG Act," the letter added.
In one case, the Peace Corps Office of Inspector General was attempting to investigate apparent wrongdoing in how the agency handled shocking instances of government employees sexually assaulting volunteers. "While the Peace Corps has entered into a Memorandum of Understanding," the letter said, "the agency still refuses to provide its OIG with full access to sexual assault records."
The group of IGs said the Justice Department withheld all documents that were not beneficial to department leadership. The Environmental Protection Agency Office of Inspector General ran into a road block at the Chemical Safety and Hazard Investigation Board (CSB) at the EPA, which "refused to provide requested documents relating to an EPA OIG investigation."
The EPA cited a bogus claim to attorney-client privilege, which they say overrules the IG Act of 1977.
House Oversight Committee Chairman Darrell Issa first called the letter unprecedented. "I've never seen a letter like this, and my folks have checked — there has never been a letter even with a dozen IGs complaining."
"This is an administration that pledged to be the most transparent in history. Yet, these nonpartisan, independent agency watchdogs say they are getting stonewalled," said Sen. Chuck Grassley (R-IA), the top Republican on the Senate Judiciary Committee.