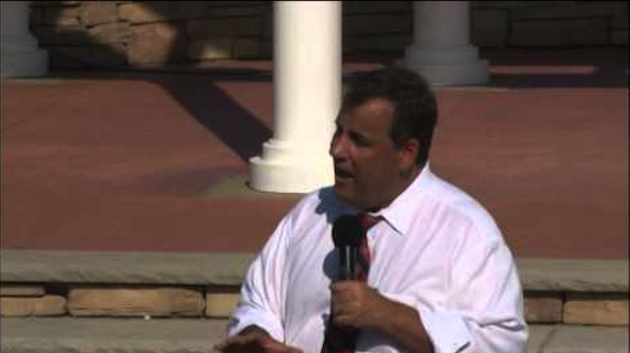 New Jersey Gov. Chris Christie is taking heat from Reverend Al Sharpton, the head of the grievance industry, for not commenting on the events in Ferguson, Missouri.
"I'm amazed that we're not hearing from leading candidates … Chris Christie or Jeb Bush or Hillary Clinton," Sharpton said on Tamron Hall's News Nation. "I land in New York this morning, and I see Chris Christie dancing with Jamie Foxx."
However, as usual, Sharpton prematurely made a rush to judgement when he didn't have all of the facts or know what he was talking about. Speaking at a town hall event in Long Branch, New Jersey, the still-popular governor criticized the media and agitators for inciting anger and prejudgement in the shooting of Michael Brown.
"When something like this happens, like happened in Ferguson, people have already jumped to the conclusion about not only what happened in Ferguson, but also about how does that apply to every other police force across the country," Christie said. "There'll be plenty of time for us to examine this, and to learn lessons from Ferguson, as all the facts come out, not just when the TV anchorpeople are sitting there in Ferguson making a spectacle of this."
Initially, Sharpton and other so-called civil rights activists, as well as so-called journalists on MSNBC, reported that Officer Darren Wilson shot Michael Brown in the back when he was running away. Then, the good Reverend's story evolved into Brown being gunned down in the streets by a white cop when he was surrendering. Now, whether or not Brown attacked Officer Wilson as he attempted to exit his patrol car — which transpired just moments after Brown committed a strong arm robbery — or, reached for the police officers gun during a struggle, is irrelevant.
And the story continues to change, a development that lends more credence to Christie's comments. A report claims Wilson suffered severe facial injuries, including an orbital (eye socket) fracture, and was nearly beaten unconscious by Brown moments before firing his gun. Further, a video taped in the aftermath of the shooting captures a voice of a witness heard saying the 18-year-old charged at the officer who fired in self-defense.
"I mean, the police was in the truck [sic] and he was, like, over the truck," the witness says. "So then he ran, police got out and ran after him. The next thing I know, he comes back towards them. The police had his guns drawn on him."
Christie blasted the media for convicting Wilson in the court of public opinion before all of the facts were made. Even Missouri Gov. Jay Nixon drew staunch criticism with comments calling for a quick prosecution of Officer Wilson before the justice system or the facts even had a chance to bear truth.
"But I just don't believe we should be drawing any generalizations or conclusions yet from what we know after just about ten days of this," Christie added. "We're going to learn a lot more in the time to come, and then we should have an intelligent conversation about whether anything that happened out there is something we need to learn from and apply in New Jersey, but until we know all the facts, public figures who jump out now, and politicians who jump out now, they're just trying to get their name in the newspaper, and I don't think that's the way you should do it."
Christie continued his comments:
So, I'd be reluctant to say anything more than that just because I know I don't know enough. I used to say all the time when I was a U.S. attorney, privately to our staff, like, I'd hear a politician make a statement about a case they thought we were working on or whatever, and I'd say: I hate when those guys who don't know anything act like they know everything. Now that I'm in public office, I don't want to be guilty of the same thing I used to criticize them for, so until I know more, I think I'm going to give the police the benefit of the doubt here in New Jersey. And as for Missouri, let's let those guys work it out and learn whatever lessons we need to learn when we have all the facts.