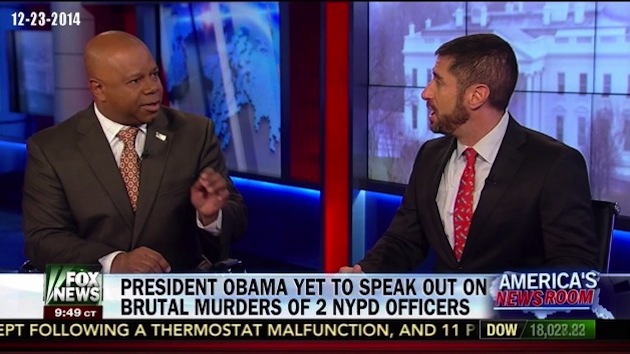 David Webb, a black conservative and radio host, debates the straw that broke the camel's back with Mayor Bill de Blasio against Bernard Whitman on Fox News.
Meanwhile, from his vacation, a "really angry" Bill O'Reilly called into his program Monday night to rip New York City Mayor Bill de Blasio and call for his resignation. Two NYPD officers were shot and killed Saturday after a gunman opened fire on them as they sat inside a patrol car as "revenge" for Eric Garner.
Yet, leftist Mayor Bill de Blasio aligned himself with Al Sharpton and protestors, calling the assault "alleged" despite the fact it, too, was caught on camera. Further, in a press conference following the grand jury's decision, de Blasio claimed that he had told his own 17-year-old, mixed-race son, Dante, to be careful around police officers.
Meanwhile, protesters part of Al Sharpton's "Million Marchers" chanted "What do we want?… Dead cops!" as they marched in New York City last Saturday. They were caught on video prior to the executions, which preceded Ferguson protesters taking to the streets in St. Louis– also caught on video — taunting officers with a phrase the cop killer used on Instagram just before committing the executions.
"Pigs in a blanket! Fry 'em like bacon!" the protestors shouted as police officers stood in a line.
(Video: H/T RightSightings)