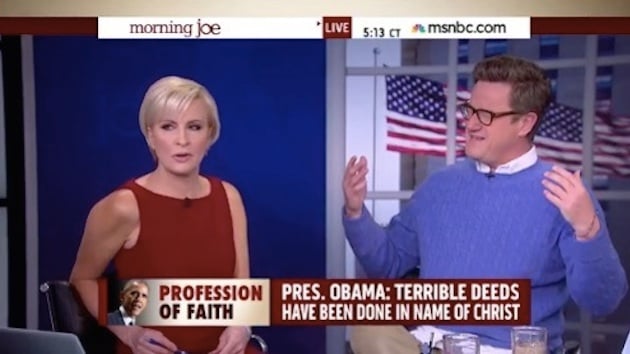 Friday morning, MSNBC's Joe Scarborough tore into President Obama's comments from the annual prayer breakfast in Washington D.C. this week. Obama said Christians, who committed violent acts during the Crusades and the Inquisition, shouldn't get on their "high horse" about Islam.
"It's unbelievable, the moral equivalency," said the host of Morning Joe. "The president having to go back 700, 800, 900 years? You see this when you have people that somehow want to paint a broad brush. 'Uh, yes, radical Islam is bad but look what Christianity does.' Really, you have to go back 800 years to a Crusade which, by the way, most historians say Christians launched in response to years and years of Muslims taking over their former land."
Scarborough's liberal co-host, Mika Brzezinski, attempted to downplay the president's comments as a timing issue only, as if it didn't conflict with historical and logical accuracy.
"I think the timing's bad. I think it's a bigger conversation as to whether or not it's okay to have, you know," she said before a visibly disturbed Scarborough responded in kind.
"Why does he feel the need to go back 800 years?" he interjected. "This stupid, left-wing moral equivalency. Sometimes you can just say — sometimes you just say, 'hey, you know what, there are some really, really bad Muslim extremists." You don't have to go to the other side, 'oh, and Christians are bad, too.' There is such a desperate plea for some reason on the left to do that, for some people on the left."
Scarborough went to cite an example of how liberals desperately sought an example of Christian and Jewish extremism in the wake of 9/11, but ended up equating Islamic extremism with a Christian school that was allegedly making women wear skirts below their knees.
"How ghastly," he added. "Let's see. Wear skirts below your knees on this side at fundamentalist schools, blow up the World Trade Center on this side."
After Brzezinski tried to dismiss the point by simply saying, "Okay, okay," a seething Scarborough expressed the feelings of millions of Americans.
"No, no, it's not okay," he fired back. "It's not okay for this president. You almost have to ask the question, where did he go to church? Where would he get such ideas from?"