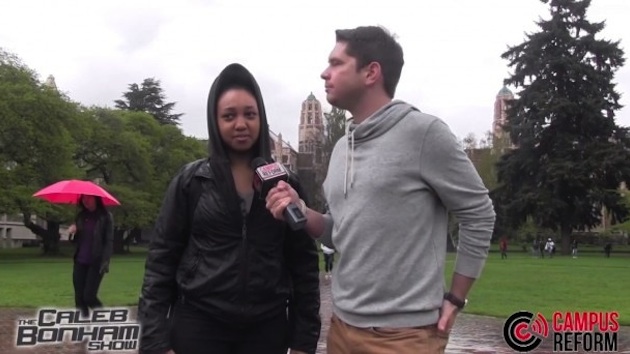 Caleb Bonham of Campus Reform asked several students at the University of Washington for the "biggest reason" they planned to vote for Hillary Clinton in the 2016 presidential election. Not surprisingly, several of the students admitted it's "because she's a woman."
"Tell me the one reason why you would support a Hillary Clinton presidency," Bonham asked one female student.
"Because she's a woman," the student honestly replied. "So, diversity, you know."
Another student answered, "To be honest, it's because she's a female."
Some of them even admitted that picking a president based only on gender probably isn't the smartest thing. But at least they had the courage to admit their decision wouldn't be based on principles or high-information voting.
That is more than can be said for House Minority Leader Nancy Pelosi, D-Calif., who flat-out urged low-information voting on behalf of women when she told reporters during a press conference Friday that Hillary's position on the issues and her record are just not as important as electing a female president.
When asked about recent comments from Gov. Lincoln Chafee, I-R.I., who is considering running as a Democrat for president and implied Hillary shouldn't be the nominee because of her support for the Iraq War, Pelosi went on to insult the intelligence of women in a manner not yet seen from the right. Pelosi, consequently, called the Iraq war among other things "a grotesque mistake" after she voted for it before voting to defund soldiers serving in a combat theater.
"What's important is what it would mean to elect a woman president of the United States," Pelosi said. "It's a very major consideration… When I became even whip, the response was so overwhelming from people saying how encouraged they were that we had broken not the glass ceiling. That's nothing. We're talk about the marble ceiling. "
Watch the full video via Campus Reform below: