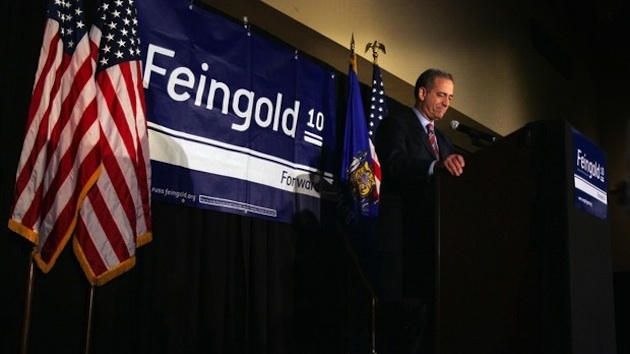 Former Sen. Russ Feingold, a leftwing progressive Democrat, announced Thursday that he will run to win back the U.S. Senate seat in Wisconsin he lost 6 years ago. The announcement, which was made via a video, demagogues corporations and big money in politics.
[brid video="8513″ player="1929″ title="Russ Feingold Announces Bid For U.S. Senate In Wisconsin Again"]
"People tell me all the time that our politics and Washington are broken. And that multi-millionaires, billionaires and big corporations are calling the shots," Feingold says in the video. "They especially say this about the U.S. Senate, and it's hard not to agree. But what are we going to do? Get rid of the Senate?"
Feingold's decision to jump into the race was met with a mixed reaction, including from Democrats. The race will be a rematch between Feingold and Sen. Ron Johnson, R-Wis., who defeated him 52 to 47 percent during the 2010 midterm elections. Feingold ran what was widely considered to be a terrible campaign in 2010, winning just 15 counties statewide. While Establishment Democrats have pressed Feingold to run a much different campaign in 2016, he has already received support from a former colleague.
"When I came to the Senate, Russ was a great progressive champion and leader. It was a big loss for the country when he lost his seat in the 2010 wave," Sen. Jeff Merkley, D-Oreg., said in an email to PPD after the announcement. "Russ is the kind of leader we can count on to do what's right when it matters most. He cast the only "no" vote against the Patriot Act when it first passed, standing up for our civil liberties and proving that he's willing to make the tough calls to defend our progressive values. Russ was also leading the effort to end the war in Afghanistan, way back in 2010."
But there are several factors working in Feingold's favor this time around: Democratic turnout tends to spike in presidential election years, and recent polls have underscored that Johnson is one of the most vulnerable sitting GOP senators.
Marquette Law School, which is considered the gold standard state survey by the PPD Pollster Scorecard, released a poll in mid-April that found Feingold leading Johnson by 16 points in a hypothetical match-up. A March poll conducted by the Democratic firm Public Policy Polling found Feingold leading Johnson by 9 points.
| Poll | Date | Sample | MoE | Feingold (D) | Johnson (R) | Raw Spread |
| --- | --- | --- | --- | --- | --- | --- |
| PPD Average | 3/6 – 4/10 | — | — | 52.0 | 39.5 | Feingold +12.5 |
| Marquette University | 4/7 – 4/10 | 803 RV | 3.5 | 54 | 38 | Feingold +16 |
| PPP (D) | 3/6 – 3/8 | 1071 RV | 3.0 | 50 | 41 | Feingold +9 |
(Please Note: The above average represents the raw spread, which does not reflect weighting for accuracy according to the PPD Pollster Scorecard.)
"I'm not worried about it. I'll leave other people to do the evaluation," Sen. Johnson said. "I think it's pretty much meaningless at this point in time."
The senator has a point, historically, as Feingold was way ahead at a point in the cycle far closer to Election Day that it currently is now. Johnson, who was considered a long-shot underdog, didn't begin to definitely pull away from Feingold until September 2010, just a few short weeks before the election. He will have ample support to fireback at Feingold, who will be well funded.
"Wisconsin voters fired Russ Feingold in 2010 because he was out of touch with their values," Club for Growth President David McIntosh said in an email to PPD after the announcement. "Since then, he's been working for President Obama and teaching in California. Now he's coming back to Wisconsin looking for another chance."
Even though he spent nearly six years out of the U.S. Senate, Feingold has never really left the progressive insider circles, something McIntosh is quick to remind voters about.
"It only makes sense that Feingold wants Wisconsinites to send him back to Washington," he said. "In 20+ years he's hardly ever left. Feingold is a lifelong politician who has used political arm-twisting to push a radical, big-government, big-labor, anti-economic growth and anti-taxpayer agenda."
While it is true that Feingold has been a longtime campaign finance voice — and, was vehemently opposed to the Supreme Court Citizens United decision, which gutted his reform law — he might find himself a bit out of step with his party on super PACs. Despite the Koch brothers talk from Democrats in 2014, it was Harry Reid's Senate Majority PAC that put out more than 40,000 Senate-focused television ads during the 2014 election cycle, which was far more than any other outside spending group.
The contribution by the PAC to the Democrat money advantage last cycle is actually understated by that number because, for every 20 ads run this cycle, 1 was put out by Reid's group in support of so-called anti-big money progressives like Feingold. Nearly two-thirds of the money raised by Reid's PAC — $34 million— came from big contributors giving half a million dollars or more, according to research of the Center for Public Integrity.
Yet, following his defeat in 2010, Feingold founded Progressives United, a group allegedly opposed to corporations' influence on the political system. From July 2013 until March 2015, he served as the State Department's special envoy for the Great Lakes Region of Africa.
"Feingold's only objection to Obamacare was that it didn't go far enough toward fully government-run health care. He voted often to add to our nation's staggering federal debt, and he was repeatedly a solid YES on debt-busting bailouts and spending bills," Mr. McIntosh added. "Since being voted out of office, Feingold has remained a strong Obama ally, only recently giving up his appointed post at the Obama State Department to find his way back to Wisconsin to run for office. In 2010, The Club for Growth PAC proudly stood with Ron Johnson in his successful defeat of Russ Feingold, and we are doing so again today."
The Club for Growth, a pro-free market and limited government grassroots organization, won't be the only thorn in Feingold's side. The Wisconsin GOP already launched a website called RadicalRussFeingold.com and told reporters that he has a "voting record of supporting one disastrous policy after another."
"As a Senator, Feingold accomplished nothing in 18 years," the party writes on the site. "Now, he wants voters to believe things will be different the second time around. Feingold was consistently on the wrong side of hard-working families – supporting big-government policies that dramatically increased taxes and spending. His support for Obamacare is a classic hallmark of his failed legacy."
The Wisconsin Republican Party criticized Feingold for spending more time in California and Washington than Wisconsin, and put together a video to hammer him over his "ObamaCare Problems."
[brid video="8514″ player="1929″ title="Russ Feingolds ObamaCare Problems"]
The Wisconsin Senate race is rated Leans Republican on PPD's 2016 Senate Election Projection Model, and whether or not Feingold can demonstrate he is a significantly better candidate than he was in 2010 will have an enormous impact on moving the needle.