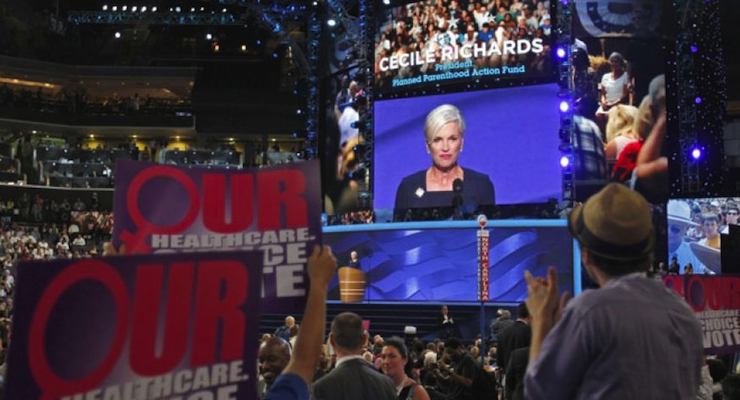 [brid video="12098″ player="1929″ title="Planned Parenthood President Cecile Richards This Week ABC"]
Planned Parenthood President Cecile Richards appeared on This Week ABC Sunday morning and blamed "militant anti-abortion activists" for releasing videos revealing the organization alters abortion procedures to better harvest baby body parts to sell to buyers.
However, the venue, as well as the argument, is unlikely to stop the hemorrhage of support among the American people.
"This is not actually an effort to discover problems, it is actually a three year effort to entrap doctors, so now they are using these highly edited, sensationalized videos," Richards said in an interview with George Stephanopoulos, a former Clinton operative-turned-ABC News anchor. Recent polls show a plurality and near-majority of the American people say Stephanopoulos, who ran into his own trouble after he failed to disclose donations to the Clinton Foundation, needs to be banned from covering the 2016 presidential election.
"This entire effort is a smear campaign in order to cut off funding for basic women's health care in America," Richards added. "There are no financial benefits to the clinics. These militant anti-abortion activists do nothing to support the health and safety of women. If they had their way women could no longer come to Planned Parenthood."
A recent video released by the Center for Medical Progress captured PPFA Senior Director of Medical Services Dr. Deborah Nucatola admitting to using partial-birth abortions to get intact parts — as she slurped down big glasses of red wine and chomped on a salad — suggesting a price range of $30 to $100 per specimen.
Then, a second undercover video shows Planned Parenthood Federation of America's Medical Directors' Council President, Dr. Mary Gatter, haggling over payments for intact baby parts. Further, and more disturbing, Dr. Gatter offers to use a "less crunchy technique" to get more intact body parts during a practice the group has repeatedly claimed they do not engage in.
Federal law prohibits altering the timing or method of abortion for the purposes of fetal tissue collection — 42 U.S.C. 289g-1 — but Gatter, who seems aware this violates the law, disregards them.
Sen. Rand Paul, R-Kty., a physician by profession, vowed to defund Planned Parenthood by any means necessary after two shocking videos were released. Friday, Sen. Paul fast-tracked his defund Planned Parenthood legislation by invoking Rule 14, which could allow for a Senate vote as early as next week.