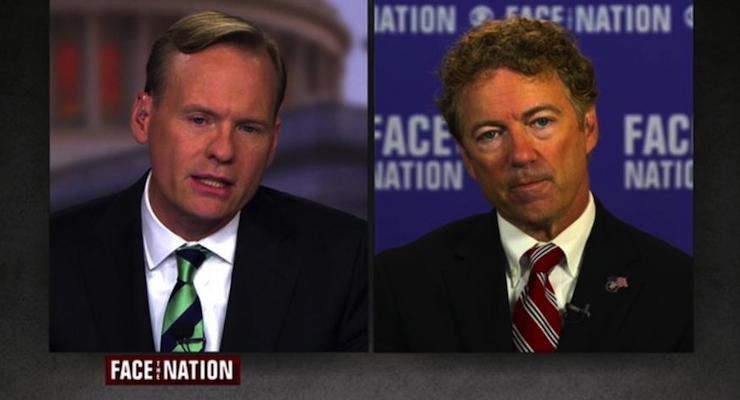 [brid video="12105″ player="1929″ title="Sen. Rand Paul My Prochoice Friends Horrified by Planned Parenthood Videos"]
Sen. Rand Paul, R-Kty, said during an interview on CBS' Face the Nation that even his pro-choice friends are horrified over Planned Parenthood. recent undercover video of a Planned Parenthood staffer discussing the sale of fetal tissue.
"As a physician, I watched this video, of a physician and her callous sort of disregard for anything human about life," Sen. Paul said. "Just casually over wine and brie, 'we manipulate the baby around so we can get the body parts out first, and then we crush the baby by the head at the end instead of at the beginning. I think even pro-choice people are horrified by this. I don't talk to any pro-choice friends who aren't horrified by this."
Paul, a physician by profession, vowed to defund Planned Parenthood by any means necessary after two shocking videos were released. Friday, Sen. Paul fast-tracked his defund Planned Parenthood legislation by invoking Rule 14, which could allow for a Senate vote as early as next week.
Meanwhile, Planned Parenthood President Cecile Richards appeared on This Week ABC Sunday morning and blamed "militant anti-abortion activists" for releasing videos revealing the organization alters abortion procedures to better harvest baby body parts to sell to buyers.
"This is not actually an effort to discover problems, it is actually a three year effort to entrap doctors, so now they are using these highly edited, sensationalized videos," Richards said in an interview with George Stephanopoulos, a former Clinton operative-turned-ABC News anchor. Recent polls show a plurality and near-majority of the American people say Stephanopoulos, who ran into his own trouble after he failed to disclose donations to the Clinton Foundation, needs to be banned from covering the 2016 presidential election.