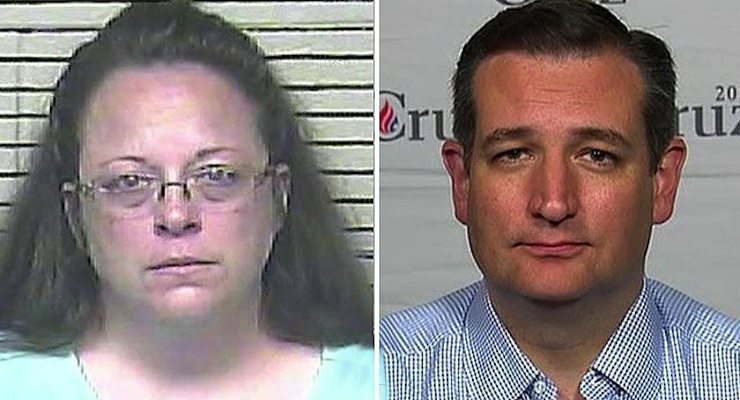 Texas Sen. Ted Cruz, a 2016 Republican presidential candidate, said Thursday night he "unequivocally" stands with the Kentucky clerk who was jailed for refusing to issue marriage licenses to gay couples.
"What happened today was an outrage," Cruz said during an interview with Megyn Kelly. "It is fundamentally wrong. For the first time, we are seeing a Christian woman thrown in jail for standing up for her faith. I'll tell you I stand with Kim Davis, unequivocally. I stand with her and anyone else the government is trying persecute."
A federal judge ordered Davis to jail for contempt Thursday. Davis, a clerk in Rowan County, insisted that it would violate her conscience to follow court orders to issue marriage licenses. District Judge David Bunning said his only alternative was to order her to jail because he did not believe she would comply with his order even if she were fined. She was escorted out of his courtroom by a deputy, although not in handcuffs, and ordered to be turned over to the custody of federal marshals.
Cruz released a statement earlier in the day that mirrored his comments on the Kelly File. In the statement, the Texas senator said it was a "lawless court opinion" Davis was defying.
"Today, judicial lawlessness crossed into judicial tyranny," the statement read. "I stand with every American that the Obama Administration is trying to force to chose [sic] between honoring his or her faith or complying with a lawless court opinion."