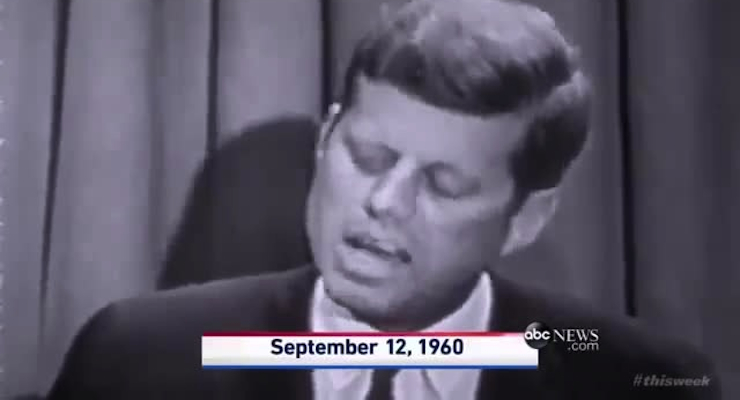 [brid video="14753″ player="1929″ title="Huckabee to Stephanopoulos Jailing Clerk "What Jefferson Warned Us About Judicial Tyranny""]
Former Arkansas Gov. Mike Huckabee fired back at George Stephanopoulos during This Week over the jailing of Kim Davis, saying this "is what Jefferson warned us about–judicial tyranny." Towing the typical liberal line over the issue of gay marriage, Stephanopoulos asked how would the legal situation be any different if this were interracial marriage.
A federal judge ordered Kim Davis, a Kentucky county clerk who refused to issue marriage licenses to gay couples, to jail for contempt Thursday. Davis insisted that it would violate her conscience to follow court orders to issue marriage licenses.
Davis, a clerk in Rowan County, and her deputy clerks were summoned to appear before U.S. District Judge David Bunning, who said his only alternative was to order her to jail because he did not believe she would comply with his order even if she were fined. Davis stopped issuing licenses to all couples in June after the U.S. Supreme Court effectively shutdown debate and legalized gay marriage in all 50 states. But, despite the Supreme Court and other court rulings against her, she continued to turn away gay couples seeking a marriage license, calling it a "heaven and hell" decision.
In a show his support for Davis and religious liberty, Huckabee organized a rally in Kentucky.