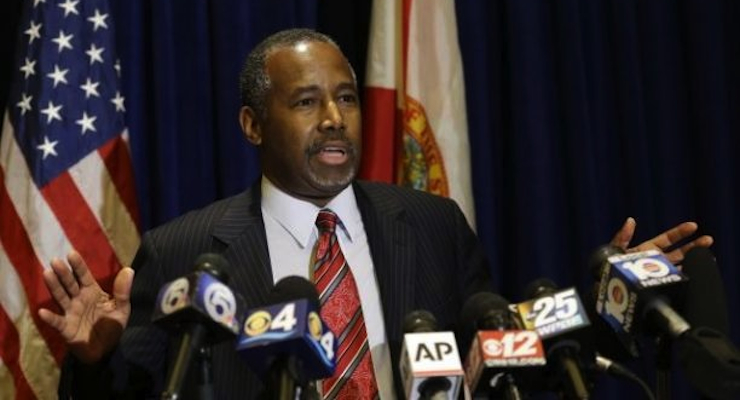 [brid video="19512″ player="1929″ title="Ben Carson Blows Up at Reporters During Presser Why Dont You Care About Obamas Past"]
Dr. Ben Carson, a leading 2016 Republican presidential candidate, held a press conference to refute a POLITICO story claiming he admitted to "fabricating" a claim he was offered a scholarship to West Point by Vietnam Gen. Westmoreland.
"It was an offer to me. It was specifically made," Carson said. "It's almost 50 years ago. I bet you don't remember all the people you talked to 50 years ago,"
The press conference was held on Friday Nov. 6, 2015 in Palm Beach Gardens, Florida. Carson is trouncing Democratic frontrunner Hillary Clinton in head-to-head polls, but pointed out what he called the media double standard while vetting presidential candidates.
Carson said President Obama did receive the same level of scrutiny in his 2008 White House bid, citing Obama's relationships with Frank Marshall Davis, who had ties to the Communist Party, and Bill Ayers, a college professor who in the 1970s led the radical left group the Weather Underground.
"I do not remember this level of scrutiny for one President Barack Obama when he was running," Carson said during the intense exchange. "In fact, I remember just the opposite. I remember people just 'well, well, we won't really talk about that. We won't talk about that relationship. Well Frank Marshall Davis, well we don't want to talk about that. Bernardine Dohrn, Bill Ayers, well, he didn't really know him."
He also asked reporters why they haven't tried to unseal Obama's under-graduate records.
"All the things Jeremiah Wright was saying, well not a big problem.' Goes to Occidental College, doesn't do all that well and somehow ends up at Columbia University. His records are sealed. Why are his records sealed? Why are you guys not interested in why his records are sealed?"