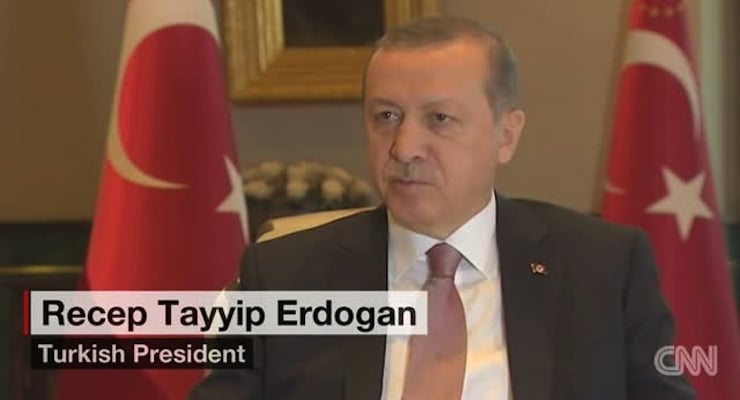 [brid video="21150″ player="2077″ title="Turkish President Recep Tayyip Erdogan Russians "Are the Ones Who Need to Apologize""]
Turkish President Recep Tayyip Erdogan said in an exclusive CNN interview that Turkey will not apologize for shooting down a Russian fighter jet they claim violated their airspace last week.
"I think if there is a party that needs to apologize, it is not us. Those who violated our airspace are the ones who need to apologize. Our pilots and our armed forces, they simply fulfilled their duties."
Turkey released audio of what they claim is the transmission warning the Russian pilots that they were in Turkish airspace before shooting them down. However, a senior U.S. defense official told PPD Friday that the Russian fighter jet "did not appear to be" in Turkish airspace when it was shot down, adding that the timing and duration of the transmission indicates they were putting on a show for the international community.
Meanwhile, Russian President Vladimir Putin made good on his promise to impose "significant consequences" for Turkey shooting down the Russian Su-24 fighter jet, hitting the NATO-member nation with billions in new sanctions. The decree signed by Putin sanctions imports from Turkey, the work of Turkish companies in Russia and any Turkish nationals working for Russian companies.