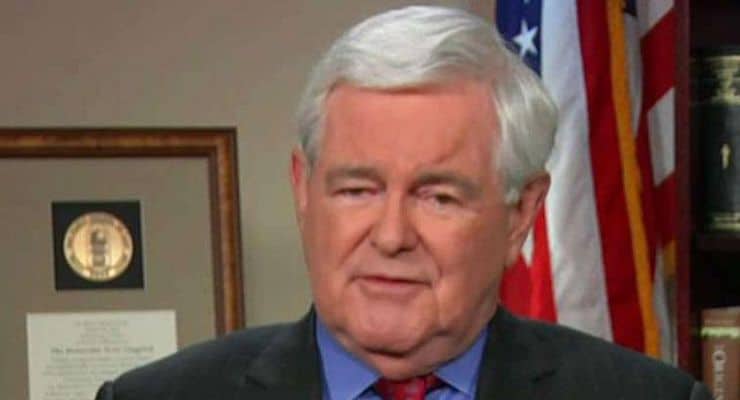 [brid video="121305″ player="2077″ title="Newt Gingrich 'Corrupt' CBO Scoring 'Totally Dishonest Disgustingly Wrong'"]
Former House Speaker Newt Gingrich slammed the "corrupt" Congressional Budget Office (CBO) after it released its "disgustingly wrong" score for the American Health Care Act. During an interview on The First 100 Days on Fox News, the former Republican House speaker
"They should abolish the Congressional Budget Office (CBO). It is corrupt it is dishonest," Mr. Gingrich said. "It was I totally wrong on ObamaCare by huge, huge margins. I don't trust a single word they published and I don't believe them."
The former House speaker under former President Bill Clinton said Republicans fought the CBO during budget battles, which resulted in a balanced budget.
"Let me be very clear." he said. "I help balance the budget four straight years, the only time in your lifetime, and we fought the Congressional Budget Office at every turn."
"It is totally dishonest, disgustingly wrong."
CBO) released their highly-anticipated scoring of the ObamaCare repeal bill, the American Health Care Act (AHCA), which found it would reduce federal deficits by $337 billion over the 2017-2026 period. However, the CBO also predicted up to 24 million could lose coverage by 2026, which is being touted by Democrats. Health and Human Services Secretary Tom Price disputed the claim, noting it would require those who are on Medicaid to choose not to keep a free product, something that is highly unlikely given historic trends.
"CBO and JCT estimate that, in 2018, 14 million more people would be uninsured under the legislation than under current law," the report says. "Most of that increase would stem from repealing the penalties associated with the individual mandate. Some of those people would choose not to have insurance because they chose to be covered by insurance under current law only to avoid paying the penalties, and some people would forgo insurance in response to higher premiums."