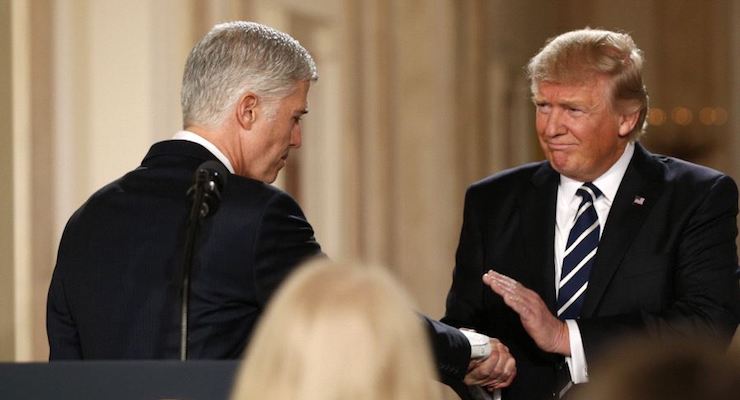 Democrat Minority Leader Chuck Schumer erroneously claimed Republicans need "60 votes for confirmation" of Neil Gorsuch to the Supreme Court. On January 31, President Donald J. Trump nominated Judge Gorsuch for the Court vacancy left by the death of Antonin Scalia.
"Requiring 60 votes has always been the right thing to do on Supreme Court nominations, especially in these polarized times," he said. "But now in this new era of the court, in this new administration, there is even heavier weight on this tradition."
His assertion has been repeated by Democrats in the House and Senate, and regurgitated by TV talking heads. At the White House, a reporter asked President Trump if he would support Majority Leader Mitch McConnell changing the rules to "go nuclear" and allow only a simple majority to confirm Judge Gorsuch if Democrats attempt a filibuster.
"I'd say, Mitch, if you can, go nuclear," the president responded.
There's just one little problem with this conversation: The claim that 60 votes is needed to confirm a Supreme Court justice is completely false.
In fact, not only is there no constitutional requirement nor legal precedent to back him up, but two sitting justices did not receive 60 votes and yet serve on the high court right now. Justice Clarence Thomas was confirmed with only 52 votes after a smear campaign he referred to as a "high-tech lynching" of a black man who doesn't subscribe to liberal orthodoxy. Justice Samuel Alito, another conservative, was confirmed with only 58 votes.
As a matter of fact, the other frequently cited argument from Democrats also doesn't hold up to historical scrutiny. Many on the left claimed they will filibuster as a protest of the Republican majority's decision to not even meet with or hold a hearing for Merrick Garland, who was nominated by Barack Obama in his final year.
But implementing the "Biden Rule" isn't new nor was it a terribly long time to hold the seat open. The longest vacancy since the court went to nine justices in 1869 was 391 days. President Donald J. Trump and the GOP have until March 12, 2017, before the vacancy record will even be broken.
As People's Pundit Daily (PPD) explained after Mr. Obama nominated Judge Garland, the history of obstruction relating to nominations to the high court is heavily weighted toward Democrats. Of the 15 longest confirmations, 10 were rightwing or conservative nominees, while only 4 were leftwing Supreme Court nominees and 1 independent nominee.
Judge Gorsuch, 49, who serves on the U.S. Court of Appeals for the 10th Circuit in Colorado, was appointed in 2006 by President George W. Bush. In July 2006, the U.S. Senate confirmed him unanimously by voice vote. He had the support of the very same Democrats who are now objecting to his nomination, including Sen. Schumer, then-Sens. Obama and Biden.
[social-media-buttons]