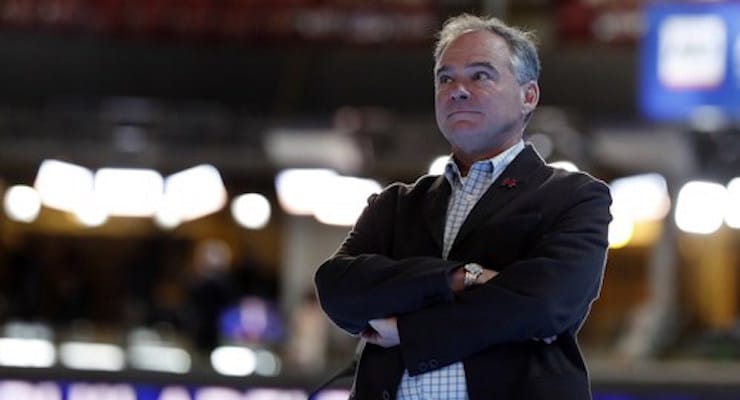 AP FACT CHECKERS: Associated Press writers Josh Boak, Deb Riechmann, Matthew Daly and Alicia A. Caldwell all contributed to the AP FACT CHECK report.
Following his abysmal performance at the vice presidential debate at Longwood University in Farmville, Va., on Tuesday, the AP FACT CHECK sought to rescue Democratic Sen. Tim Kaine. While there were certainly fact checks unfavorable to Mike Pence we partially agree on, such as his comments on the coal industry, several defending Sen. Kaine were factually false.
Hillary Clinton's campaign has actively engaged the media "fact checkers" at certain publications such as The Washington Post and The New York Times. They are collaborating with these outlets to paint her as a truth-teller and Donald Trump a liar. To be fair, we do not have any evidence that this is also the case with the Associated Press, but their "fact check" corrections have been lop-sided and swift.
REPUBLICAN MIKE PENCE: "The fact that under this past administration, we've almost doubled the national debt is atrocious…. Hillary Clinton and Tim Kaine want more of the same."
THE AP FACTS: As a share of the total U.S. economy, the national debt has gone up 35 percent; not a doubling.
THE ACTUAL FACTS: In February 2016, the U.S. national debt surpassed $19 trillion for the first time, a milestone that came only a month after the Congressional Budget Office released dire budget projections. The AP can play with debt numbers as a percentage of GDP all they want, but in real dollars Gov. Pence is absolutely correct. In fact, it is also true that President Obama has incurred more debt during his tenure than all other previous presidents combined.
The president and Democrats frequently claim that he cut deficits in half, but the CBO repeatedly points out that it is nothing more than a budget gimmick that will be revealed when he leaves office. The CBO report warned the deficit will hit $544 billion in fiscal year 2016, which represents a staggering 24% increase over the prior year.
From 2016 to 2021, deficits are projected to stay close to their current percentage of GDP for only the next few years before the amount of federal debt held by the public begins to jump off of the 73- to 74-percent of GDP) range. Thereafter, the larger deficits would boost debt—to 78 percent of GDP by the end of 2025.
"How long the nation could sustain such growth in federal debt is impossible to predict with any confidence," the CBO said. "At some point, investors would begin to doubt the government's willingness or ability to meet its debt obligations, requiring it to pay much higher interest costs in order to continue borrowing money. Such a fiscal crisis would present policymakers with extremely difficult choices and would probably have a substantial negative impact on the country."
____
PENCE: Clinton was the "architect of the Obama administration's foreign policy," says the crisis in Syria was the result of a "failed and weak foreign policy that Hillary Clinton helped lead."
THE AP FACTS: Clinton, as secretary of state, actually pushed for increased U.S. intervention after Syrian President Bashar Assad used chemical weapons against rebels. But Obama is the commander in chief and nothing has swayed him thus far. Whatever her failings might be on foreign policy, it's a stretch to accuse her of helping to lead a weak policy on Syria.
THE ACTUAL FACTS: Mrs. Clinton called President Bashar al-Assad "a reformer" and someone the new U.S. administration could work with. Mr. Obama attempted to take that advice, which quickly proved foolish. She was also the "architect" of the failed Russian reset, which Sergey Lavrov, the Russian minister of foreign affairs, publicly and privately mocks.
___
PENCE: "Hillary Clinton had a private server in her home that had classified information on it about drone strikes. Emails from the president of the United States of America were on there, her private server was subject to being hacked by foreign …"
KAINE: "A Republican FBI director did an investigation and concluded … there was no reasonable prosecutor who would take it further."
THE AP FACTS: Both are right, but they left out key details. Of 30,000 emails examined from Clinton's private server, more than 2,000 did contain some classified information. But nearly all were designated classified long after they were either sent or received by Clinton. FBI Director James Comey also said the FBI found that Clinton's server was vulnerable to hacking by foreign powers but found no evidence that her system was breached.
Comey indeed concluded that no reasonable prosecutor would have recommended that Clinton or others face prosecution in the email probe. As for his being a "Republican FBI director," he was a Republican for most of his adult life, but says he's no longer registered with the party.
THE ACTUAL FACTS: We dare someone at the AP to quit their job, apply at the State Department and mishandle classified information in the same manner as Hillary Clinton. Let's see if they get the same treatment under the law. The reality is that serious former officials at the Federal Bureau of Investigation and the Justice Department, who have previously praised Director Comey in the past, have now called this investigation into question. Further, both the exchange and the AP omit the secret meeting with between Attorney General Loretta Lynch and Bill Clinton, then a target of an investigation into the family foundation that was squashed by AG Lynch.
___
PENCE: Said he was proud that "the state of Indiana has balanced budgets."
THE AP FACTS: True, but that's not exactly to his credit as governor of Indiana. A balanced budget is required by law, as it is in every state except Vermont.
THE ACTUAL FACTS: No, it is to his credit. Every U.S. state other than Vermont has some kind of balanced budget provision. Only two states have amended their constitutions to require balanced budgets, but 45 others have some kind of balanced-budget stipulation on the books.
While the Indiana has a debt prohibition allowing exceptions only for "temporary and casual deficits," they have NO balanced budget amendment. Further, the governor is not legally required to submit a balanced budget, the legislature is NOT required to approve appropriations that are within available revenue, and the state is NOT required to end the year in balance.
When Democratic Gov. Frank O'Bannon took over in 1997 the state still had a surplus, which under his leadership both parties helped to squander.