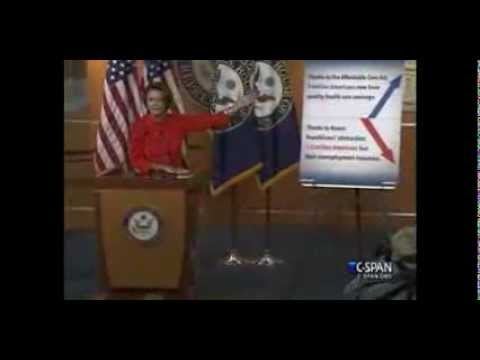 House Minority Leader Nancy Pelosi (D-CA), in response to a reporter's question about cratering support for ObamaCare among Democrats, snapped back with, "First of all, it's called the Affordable Care Act."
During her Thursday press conference, a reporter asked:
The three "Obamacare" bills on the floor  tomorrow in the House, some Democrats have indicated they might be open to supporting them. How strongly are you pushing members to vote against them? And does it start to become a sign of weakening support if more Democrats…
Pelosi cut the reporter off, snapping back with a response:
Absolutely not. First of all, it's called the "Affordable Care Act." If that's what you're referencing, yeah, they are going after the Affordable Care Act. They're saying, let's do everything we can to take away health insurance from 9 million Americans who already have it and prevent many more millions of Americans from having it.
Nancy Pelosi, who infamously said "we have to pass the bill so that you can find out what's in it," has referred to the law previously as ObamaCare many times before, and in November told David Gregory on "Meet the Press" hat she has "always" referred to ObamaCare as the Affordable Care Act.
Clearly, as many media outlets are showing in an infinite number of video rewind clips, she is a "dunce," and has referred to ObamaCare by that name countless numbers of times. In fact, that's not the only rewind worth taking a look at in light of recent developments.
In Feb. 2010, Nancy Pelosi also said that ObamaCare wasn't only about health care reform, but that is would benefit the economy and jobs. The then-Speaker of the House outrageously claimed that ObamaCare will create 4 million jobs over its lifetime — which she offered up without media challenge, opting to just make up a number and an arbitrary timeframe — but also said that ObamaCare "will supply 400,000 jobs almost immediately."
Today, the December jobs report said that 917,000 Americans moved to the "discouraged workers" category according to the Bureau of Labor Statistics, with a pathetic 74,000 jobs being added in the month of December.
The latest economic news shows both that Nancy Pelosi is a complete economic illiterate, and everyone's hopes for a vibrant recovery in 2014 were premature. The economy, particularly the labor market, has once again fizzed out, and the number one job killer is ObamaCare.