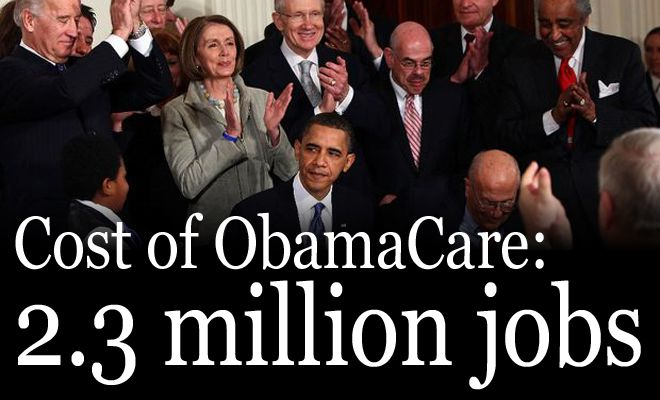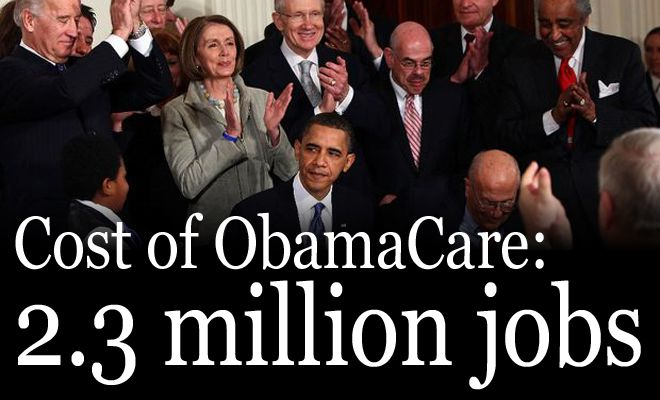 All of the American people's worst nightmares and Republic economic predictions got real Tuesday after the Congressional Budget Office released a revised report claiming nearly 2.5 million workers will opt out of full-time jobs because ObamaCare incentivizes them to do so — leading to employers elimination 2.3 million full-time jobs in the next ten years.
The administration had the same, small and insulting response they did when news broke that the individual health insurance market would be eliminated, downplaying the 2.5 million people as "a small percentage of the overall economy."
First of all, this number itself is a small percentage of the overall economy. Second of all, this number itself is about, effectively, choices of people. And third, it doesn't reflect the full set of factors that go into it," said White House economist Jason Furman, who was filling in for Jay Carney at the White House press conference,
Jay Carney also took the same position when the Washington Post reported over 22,000 Americans have purchased the wrong insurance at the direction of the health insurance Marketplace "experts," with no appeal process as promised by the federal workers.
In an exchange between Fox News' Ed Henry, Furman actually suggested ObamaCare actually incentivizes entrepreneurship by allowing people to work less, and get subsidies.
"If they make that choice and they go from 60 to 30, 35 hours, presumably that family is going to have a lot less take-home pay and they're going to have less money to put back into the economy," Henry asked. Furman responded, "They still have that job; they can still go to that job; they can still do that, but you give them this extra new thing."
Real Clear Politics' Alexis Simendinger also pressed Furman on the disastrous estimates released by the Congressional Budget Office, and followed up on the line of questioning offered up by Ed Henry. "If 2.5 million people change their choice about working, that is not a net drag on economic growth?" Simendinger asked.
"First of all, I haven't accepted that number. There's a lot of factors that go into that number. Not all of them an uncertainty. And second of all, I'm saying that that whole analysis refutes the claim that this is about employers cutting back on jobs and increasing unemployment, and that has been an essential argument against the Affordable Care Act. Instead its this analysis itself. It isn't a complete analysis, but the analysis itself about the choices that people make," Furman said.
"But you didn't answer my question," Simendinger pointedly fired back.
Even Peter Alexander of NBC News asked in dismay, "Doesn't, Jason, that incentivize though, some people to do less, that all of a sudden, there's an incentive to do less, because if your salary's less, you're still getting government subsidies but then benefits?"
And according to the Congressional Budget Office, that's exactly what is going to happen, which many Republicans rightfully noted was predictable. The CBO said that because ObamaCare offers an insurance alternative to employer provided coverage, many Americans who hold full-time jobs will make a choice not to work part-time — or at all for that matter — and get their coverage from the exchanges rather than paying so much of their take home in cost.
House Speaker John Boehner, who once called ObamaCare a "job killer," said the report showed how "the middle class is getting squeezed in this economy."
In 2010, however, the CBO projected ObamaCare would destroy 650,000 jobs, but Tuesday's new 2.3 million estimate is significantly higher, adding to the criticism that the CBO is not truly nonpartisan as Democratic lawmakers have long-claimed. They also now say a whole 2 million fewer people will get covered this year than they had previously estimated during the height of the health care debate.
Republican Sen. Orrin Hatch of Utah, a ranking member of the Senate Finance Committee, said the report was "devastating" to the millions of Americans in need of a job.
"A direct threat to the long-term health and prosperity of our nation, this law must be repealed," Hatch said in a statement. "Its impact and consequences are too great."
On those consequences, President Obama told Bill O'Reilly Sunday that his presidency has not "massively expanded the welfare state," but clearly that was another falsehood.