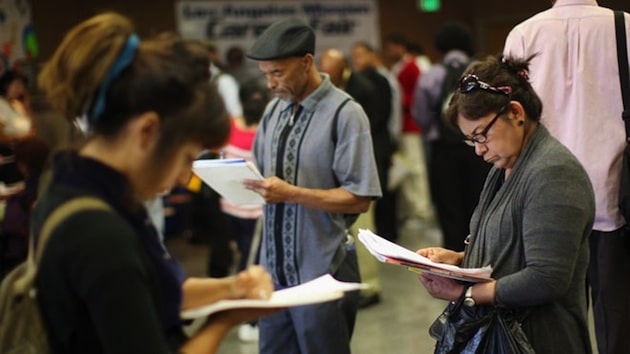 The Labor Department said Friday that the U.S. economy added 295,000 jobs in February, fueled largely by gains in food services and drinking places, as well as retail trade. The Bureau of Labor Statistics' February jobs report also shows the unemployment rate fell to 5.5 percent, while the labor force participation rate fell to 62.8 percent for the month, down from 62.9 the month prior.
Job gains occurred in food services and drinking places (59,000), professional and business services (51,000), construction (29,000), health care (24,000), and in transportation and warehousing (19,000). Employment in mining was down over the month, decreasing by 9,000 in February.
The civilian labor force participation rate has remained within a 36-low range since April 2014, while the less-cited but more important employment-population ratio remained an abysmal 59.3 percent. Fortunately, though mediocre, it is up by 0.5 percent over the year.
The number of long-term unemployed — or, those without a job for 27 weeks or more — remained at 2.7 million in February. These individuals, who do not include workers who have given up, accounted for 31.1 percent of the unemployed.
The number of persons employed part time for economic reasons — or, so-called involuntary part-time workers — was also staggeringly high at 6.6 million. These individual prefer full-time employment, but were working part time at the time of the survey because their hours had been cut back or because they were unable to find a full-time job.
These individuals represent the vast majority of the group Gallup CEO Jim Clifton was referring to when he made headlines recently by calling the unemployment rate "a big lie."
As Clifton explained, Gallup's Job Creation Index, which just released data showing the labor market in the same condition as it was in 2014, defines a good job as 30+ hours per week for an organization that provides a regular paycheck. However, the government considers an individual who clocks in a minimum of one hour of work in a week and was paid at least $20, as employed.
"There's no other way to say this," said Clifton. "The official unemployment rate, which cruelly overlooks the suffering of the long-term and often permanently unemployed as well as the depressingly underemployed, amounts to a Big Lie."
Clifton later walked back his criticisms for fear he might "suddenly disappear" for telling the truth.
In February, 2.2 million persons were still marginally attached to the labor force, including 732,000 discouraged workers, both of which have remained unchanged over the past year. These individuals were not in the labor force, wanted and were available for work, and had looked for a job sometime in the prior 12 months. However, these Americans are not counted in the BLS jobs report as "unemployed" because they had not searched for work in the 4 weeks preceding the survey.
Discouraged workers are persons not currently looking for work because they believe no jobs are available for them, or basically, have quit on the American dream. The remaining 1.4 million persons marginally attached to the labor force in February had not searched for work for reasons such as school attendance or family responsibilities.
Meanwhile, policy makers at the Federal Open Markets Committee (FOMC) are keeping a close eye on wage growth and the labor force participation rate, two economic indicators that have lagged behind stubbornly in recent months. Wage growth and labor force participation both impact inflation, which has remained far below the Fed's target rate of 2 percent.
In February, average hourly earnings for all employees on private nonfarm payrolls rose by an almost-non-existent and slim 3 cents to $24.78. Over the past year, average hourly earnings have risen by just 2 percent, which is also well below the already-mediocre 3 percent target. Economists agree that at least 3 percent is needed to indicate a somewhat healthy economy.
In February, average hourly earnings of private-sector production and nonsupervisory employees were unchanged — in other words, were stagnant — at $20.80.