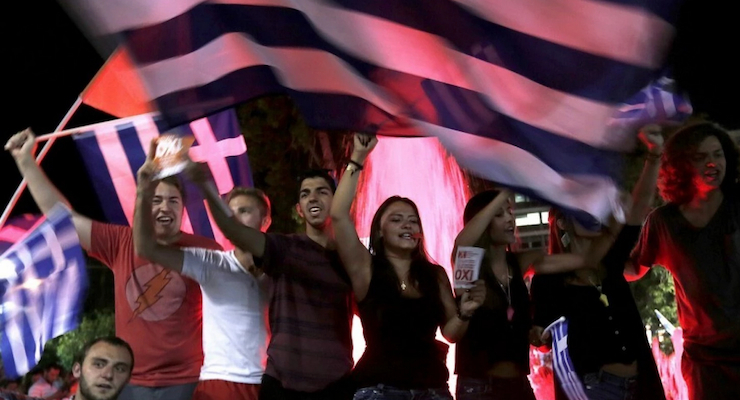 While Greek voters say they overwhelming oppose a so-called Grexit, analysts say Sunday's "no" vote increased the likelihood of departure from the euro zone. That is to say, economists and analysts at top U.S. banks and consulting firms now see only a narrow path for solidarity.
In a research briefing released on July 3, Oxford Economics pegged the odds of Greece leaving the euro zone at 85 percent in the event there was a no vote. In an updated analysis Monday morning following the vote, they stood by those odds, which were upwardly revised from 67 percent.
"There is a narrow trajectory from here that sees an emboldened Greek parliament accepting the need for reform in return for a debt write-down," Oxford said. "The next 48 hours will therefore be crucial."
However, on Sunday afternoon, top banks including JPMorgan Chase and Barclays said a Greek exit from the euro zone is now their expectation, and have revised their baseline to reflect the Grexit scenario.
"Although the situation is fluid, at this point Greek exit from the euro appears more likely than not," Malcolm Barr, an economist at JPMorgan in London, said in a report to clients on Sunday, adding it could come "under chaotic circumstances."
With 61 percent of voters rejecting the European program, analysts now expect Prime Minister Alexis Tsipras, who had indicated in a letter to "the troika" last week he was willing to accept several keys components of the EU deal, will now become emboldened by the voting results. Tsipras, a far-left socialist, believes the Greek government can tax and spend their way out of debt and into prosperity, a plan no serious economist has endorsed.
According to data from the OECD, raising taxes would do little to increase revenue and almost certainly further hinder economic growth, which has become non-existent in the birth-place of democracy-turned-socialist country. Uncollected tax receipts, as a percentage of total receipts in 2010, was at a staggering 89.5 in Greece. In Germany, by contrast, the rate was just 2.3 percent. In other words, Tspiras is proposing to increase revenue that his country has proven unable to even collect.
According to Barr, Tsipras and his government — minus former Finance Minister Yanis Varoufakis, who announced his resignation shortly after the vote — will have just a "handful of weeks" to negotiate a new aid deal.
While Goldman Sachs and Citigroup have held off on making the revision, they are quickly becoming the minority on Wall Street, and beyond.
"Exit now is the most likely scenario," Barclays analysts said in an internal report. "Agreeing on a program with the current Greek government will be extremely difficult for euro-area leaders, given the Greek rejection of the last deal offered, and will be a difficult sell at home."
Analysts at Morgan Stanley said they have revised their Grexit odds to 75 percent, up from 60 percent from just last week and matching odds at the London-based consulting company, Teneo Intelligence. BNP Paribas SA pegged the likelihood at 70 percent, up from 20 percent, while Societe Generale SA pegs it at 65 percent. Evercore ISI, a Washington-based group, said their odds of Greece exiting are at about 67 percent in the next six months to a year.