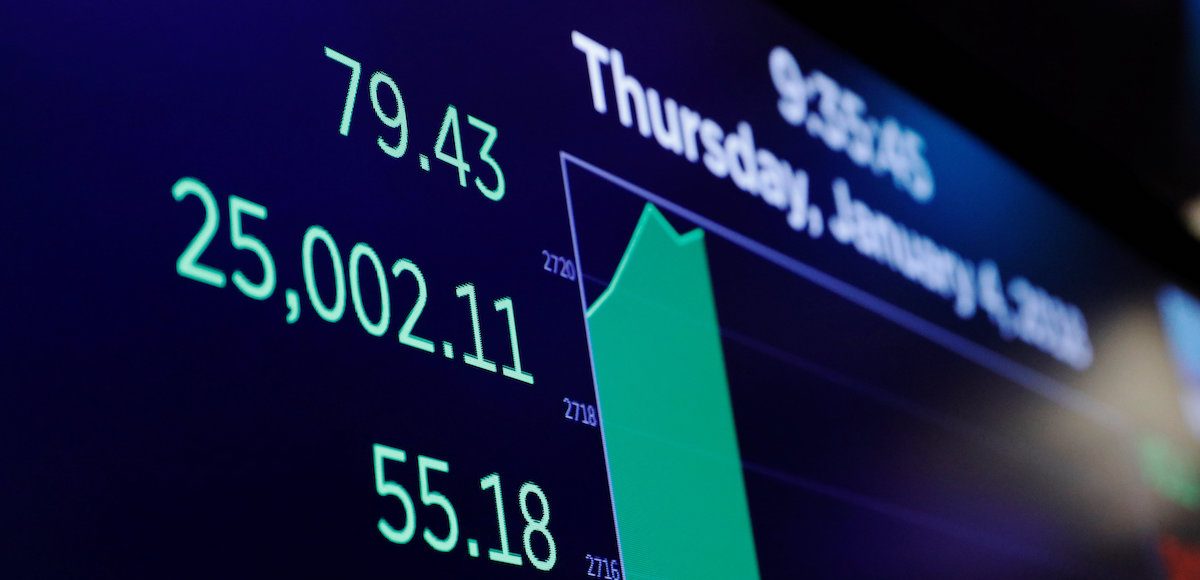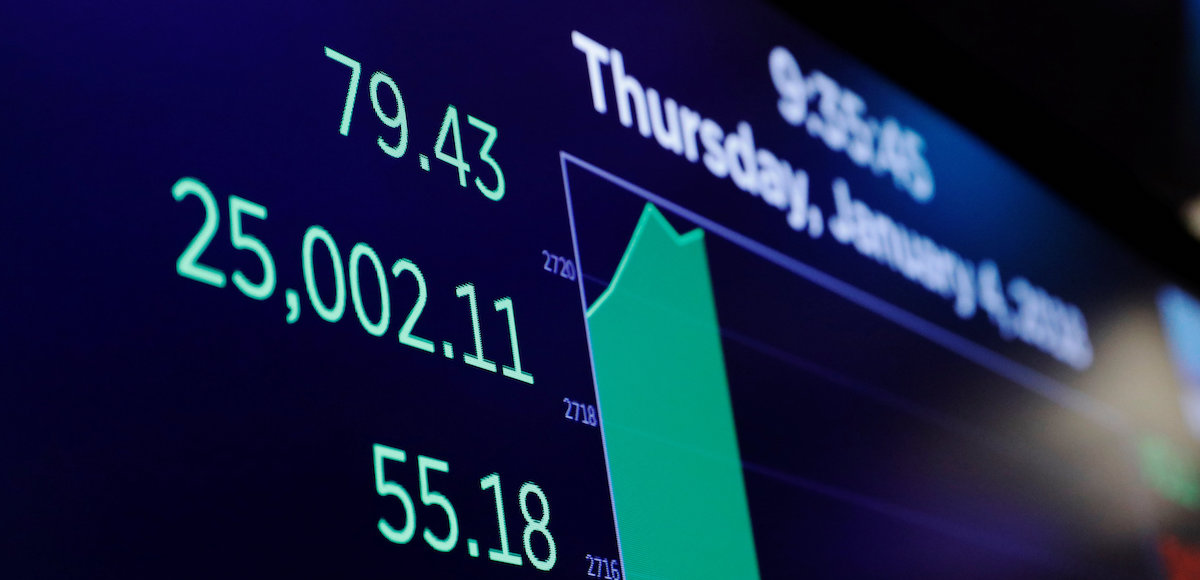 All 3 major U.S. stock market indexes closed out the first week of trading in 2018 at record highs, with the Dow Jones Industrial Average crossing a 1,000-point milestone at the fastest pace ever in U.S. history.
On Friday, the Dow rallied 220.74 points (0.88%) to close at 25,295.87, a new record high. For the week, it already saw a gain of 2.33%.
The 30-member blue-chip index crossed five 1,000-point marks, notched 71 record closes and soared 25.08% in 2017 on the back of President Donald Trump's pro-growth agenda and solid corporate earnings.
The 1,000-point rally from 24,000 to 25,000 took only 23 trading days, beating the previous 24-day record set in 1999 that took the index to 11,000 and matched in March 2017 when it hit 21,000.
The Nasdaq Composite (INDEXNASDAQ: .IXIC) was up 58.64 points (0.83%) on the final day of trading to close out the week at 7,136.56, a gain of 3.38%. The S&P 500 (INDEXCBOE: .INX) rose 19.16 points (0.70%) on Friday to close out the week at 2,743.15, a 2.60% gain.
Wall Street clearly ignored the disappointing jobs report released by the Labor Department via the Bureau of Labor Statistics on Friday morning. While unemployment remained at a 17-year low at 4.1%, the U.S. economy created just 148,000 jobs, a large discrepancy from the ADP National Employment Report released earlier in the week.
U.S. factory orders rose for the fourth straight month and have been rising for 5 out of the last 6 months, beating forecasts and leading to revisions for fourth quarter (4Q) economic growth. Forecast models are now calling for U.S. economic growth as measured by gross domestic product (GDP) to grow by at least 3% on an annual basis in the 4Q.
In 2016, the U.S. economy grew at just 1.6% on an annual basis, it's worst performance since 2011. But if the 4Q forecasts are matches or exceeded, it'll mark the third straight quarter of economic growth at or above 3% since 2004.
Further, if the 4Q for 2017 comes in at the lower end of the regional Federal Reserve forecasts, roughly 3.2%, economic growth during the first year under President Trump will easily exceed the strongest year under Barack Obama.
The PPD GDP Forecast-of-Forecasts, which averages regional and comparable models, currently shows 4Q GDP standing at 3.56%.