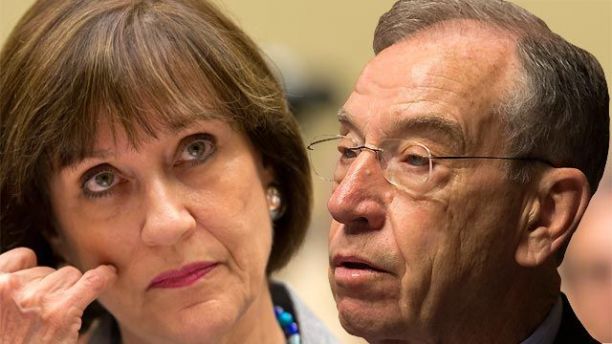 House Republicans have released new emails showing Lois Lerner, the former IRS official at the center of the IRS scandal, targeted sitting Iowa Republican Senator Chuck Grassley, a revelation one lawmaker called "shocking."
The emails — viewable below — were published late Wednesday by the House Ways and Means Committee, which is headed up by Chairman Dave Camp (R-MI), show Lerner referred Sen. Grassley for a completely unjustified internal audit. Lerner mistakenly received an invitation intended for Sen. Grassley back in 2012, in which Lerner believed the event organizer offered to pay for Grassley's wife to attend the event.
Before bothering to learn the facts, Lerner emails an IRS colleague suggesting that the case be referred for an audit. Worth noting, Lois Lerner wasn't even acting within her division when she made the referring, demonstrating an out-of-control pattern of corrupt practices.
"Looked like they were inappropriately offering to pay for his wife. Perhaps we should refer to Exam?" she wrote.
However, the colleague, who apparently wasn't operating under a political agenda, pushed back on Lerner and the entire idea, arguing an offer to pay for his wife is "not prohibited on its face."
The newly released emails represent another instance when Lerner, an Obama political appointee on a corrupt rampage to carry out a political agenda, used her authority at the IRS in the Exempt Organizations division to target conservatives.
"We have seen a lot of unbelievable things in this investigation, but the fact that Lois Lerner attempted to initiate an apparently baseless IRS examination against a sitting Republican United States Senator is shocking," Ways and Means Committee Chairman Dave Camp said in a statement.
"At every turn, Lerner was using the IRS as a tool for political purposes in defiance of taxpayer rights."
Sen. Grassley said in a statement that the emails show "political targeting" at the highest levels. "It's very troubling that a simple clerical mix-up could get a taxpayer immediately referred for an IRS exam without any due diligence from agency officials," he said.
The House held hearings this week on the latest revelation that the IRS supposedly lost the emails of Lois Lerner and six other employees due to hard drive crashes, which experts have said has a 1 in 1.5 million chance of occurring. The Americans people, however, aren't buying the story. Roughly 80 percent of Americans in a recent poll said that the IRS is lying and that the emails were intentionally destroyed to cover up the scandal.