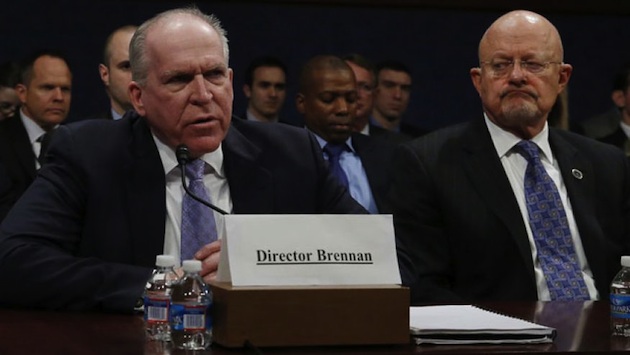 CIA Director John Brennan did not enjoy a smooth confirmation hearing in the Senate back in 2013. Libertarian-leaning Sen. Rand Paul (R-KY) staged a 13-hour filibuster in protest of John Brennan's nomination and the domestic of drones to spy on U.S. citizens, a move that led even President Obama's former radical leftist advisor Van Jones to say "Rand Paul is a hero."
Now, the same majority of Senators who pushed Brennan through despite the "Stand With Rand" blowback, are ironically fielding a rare apology from the head of the top spying agency, who today acknowledged that an internal probe uncovered CIA employees in the Executive Branch improperly had spied on the Legislative Branch by searching Senate computers earlier this year.
Yet, despite an agency spokesman confirming that Brennan had apologized to the leaders of the Senate intelligence committee, the same committee who ensured his confirmation, Democratic lawmakers are pushing for more than just words.
"The CIA Inspector General has confirmed what Senators have been saying all along: The CIA conducted an unauthorized search of Senate files, and attempted to have Senate staff prosecuted for doing their jobs," said Sen. Ron Wyden (D-OR). "Director Brennan's claims to the contrary were simply not true."
Sen. Wyden has long been suspicious of the unchecked agency and other Fourth Amendment concerns, but others are also jumping on the Brennan bash-wagon even though they had been more than supportive of his confirmation, and the president's policies as a whole.
The CIA inspector general report concluded "that some CIA employees acted in a manner inconsistent with the common understanding reached between" the Senate Intelligence Committee and the agency back in 2009, which outlined how access to a classified computer network was to be shared.
Continuing a long trend regarding investigations into government corruption, Attorney General Eric Holder has decided not to pursue criminal charges against the employees. The developments and the subsequent decision by Holder raises the question of whether the American people would have any recourse at all against similar infringements on private property and personal rights. If U.S. senator's have no expectation of privacy from employees in an overreaching and Executive Branch, then what boundaries are they respecting when it comes to everyday American citizens?
Perhaps Sen. Rand Paul had a point.
Sen. Ron Wyden had previously called for a "public apology" from Brennan, who said he promises to establish an accountability board that will investigate the despotic conduct of the CIA officers and discipline them, that is, "if need be."