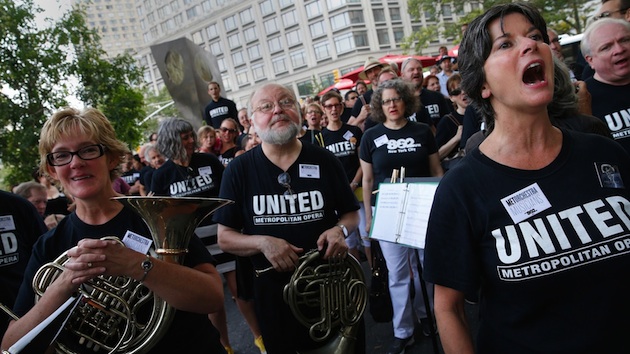 The battle for control of the U.S. Senate may have received the most media attention in 2014, but down ballot races will have an enormous impact on policy. That said, with the Republican wave election sweeping Democrats out of statewide offices, unions are in the weakest position they've ever had to wage a political fight from in modern U.S. history.
Even before the widespread Democratic defeats, 24 states had already passed right to work laws. The trend perhaps accurately reflects the shift in public opinion over the better part of century toward organized labor.
Since Gallup began tracking the question nearly 80 years ago, unions have consisting lost ground among the American public. The level of support — or, labor union approval ratings — were once as high as 75 percent. But that was in the 1950s and, now, a whopping 71 percent of Americans say they would vote for a right to work law, up from 62 percent who said the same in 1957.
"At the same time Americans express greater approval than disapproval of unions, they widely support right-to-work laws," said Jeffrey M. Jones at Gallup.
The poll also found 82 percent of Americans agree that "no American should be required to join any private organization, like a labor union, against his will," a central tenet of right to work philosophy. Consistent with year-over-year declines measured in the past, just 10 percent of Americans now identify as union members according to Gallup's Aug. 7-10 poll. Similary, according to the U.S. Bureau of Labor Statistics, just 11.3 percent of private- and public-sector workers were members of unions last year, down from 20.1 percent in 1983 and a record high of nearly 35 percent in 1954.
However, despite widespread approval of right to work and sinking membership numbers, the efforts of the Democratic Party have limited the number of states have such laws. Yet, that was before they were rebuffed by American voters, and now Republicans will control the most legislatures they have held in over 150 years, matching their previous high after the 1920 election.
As far as state governments, Republicans ran the table in 2014, taking the majority in 11 legislative chambers previously held by Democrats, including the Colorado Senate, the Maine Senate, the Minnesota House, the Nevada Assembly, the Nevada Senate, the New Hampshire House, the New York Senate, the New Mexico House, the Washington Senate, and both the West Virginia House and Senate.
Those victories actually added to what were otherwise already Republican-dominated down-ballot offices.
In total, Republicans are now in charge of 68 of the 98 partisan legislative chambers and control 30 state legislatures, as well as hold a 31-18 gubernatorial edge nationally. Even in certain states they don't control the governor mansion where they are gearing up for big right to work pushes, including the state of Missouri that narrowly defeated a previous push last year thanks to Democratic Gov. Jay Nixon, unions don't have the muscle to fend off their majorities.
In 2014, Republicans added to their two-thirds-plus majority in both legislative chambers, allowing them to easily override a veto by Gov. Nixon, who is likely to be defeated in 2016 due to his response to Ferguson.
Ironically, in states such as Wisconsin and Ohio, all that stands between right to work becoming law and reality are two Republican governors.
Ohio Gov. John Kasich, who is reportedly weighing a presidential bid, is rumored to be shying away from a fight in the event he decides to make a run. In Wisconsin, Gov. Scott Walker has never been known to shy away from any fight, as he has already effectively ended collective bargaining for most public-sector workers and included right to work language for those workers.
Regarding private-sector unions, the governor says he is concentrating on jobs first now that the state budget is under control.
"As he has said previously, Gov. Walker's focus is on growing Wisconsin's economy and creating jobs," spokeswoman Laurel Patrick said. "Anything that distracts from that is not a priority for him."
However, that doesn't mean he can restrain movements from members of his party in the once-again GOP-dominated legislature. State Rep. Chris Kapenga announced plans to push a bill for private-sector workers, and state Sen. Scott Fitzgerald, who happens to be the Senate majority leader, claims his chamber will act just as quickly to pass such legislation.
Even though Americans typically favor choice no matter the issue, philosophy may not be the only contributing factor to the success of the right to work movement. In Gallup's annual Confidence in Institutions survey, only 10 percent said they have "a great deal of confidence" in organized labor, and only 12 percent say they have "quite a lot of confidence" in them.
The future of both public and private labor unions is very much in doubt. They are bleeding membership, and are losing both the battles for both public opinion and legal opinion. In June, the Supreme Court ruling in Harris v. Quinn dealt a significant blow to the effort to expand public employee unions, but it did not gut them.
Because of the ruling, unions lost a tool of coercion they've used to expand their membership, reach and political power for decades. Many legal experts believe the high court will overturn prior precedent and completely forbid requiring public employees to contribute to union bargaining, rather than membership dues.
With the 2014 midterm elections finally handing the Republican Party the political power they have needed to accomplish what they have long-tried to accomplish — the end to budget-busting unions — the only organization that may have the power to save unions from the Republican Party, may just be the Republican Party, itself.