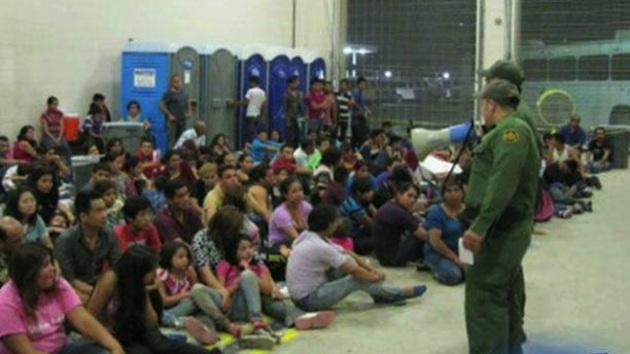 As the Republican Party prepares to retake control of both houses of Congress in January, party leaders are drawing up a border security bill.
Despite President Obama's unilateral changes to immigration law, which deferred deportation for some four million immigrants, Republicans still plan on passing their own immigration proposals and sending it to the White House.
Republican lawmakers want to strengthen border security, particularly on the Southwest border where tens of thousands of illegal immigrants flooded across in search of permisos, or free passes. Republicans are hoping to prevent what the National Association of Former Border Patrol Officers called "a predictable, orchestrated and contrived assault on the compassionate side of Americans by her political leaders."
But it is unclear whether the bill will include a reversal to Obama's illegal immigrant action.
Currently, half of the country is united against the president's order in a lawsuit, including Alabama, Arizona, Arkansas, Florida, Georgia, Idaho, Indiana, Kansas, Louisiana, Maine, Michigan, Mississippi, Montana, Nebraska, North Carolina, South Carolina, North Dakota, Ohio, Oklahoma, South Dakota, Texas, Utah, West Virginia and Wisconsin.
A federal judge ruled earlier in December that large parts of President Obama's executive immigration order are unconstitutional, in the first court opinion to address Obama's controversial actions.
"President Obama's unilateral legislative action violates the separation of powers provided for in the United States Constitution as well as the Take Care Clause, and therefore, is unconstitutional," Judge Schwab wrote.
The Senate Homeland Security Committee, is shooting to have a framework for a border bill ready by January, while House leaders have asked the chairman in the lower chamber to have a border bill ready for vote by late January or February.
"We want to set our own agenda on this," said Rep. Michael McCaul (R., Texas), chairman of the House committee.
Other bills being discussed are a temporary worker program that would allow nearly 350,000 foreigners to help out in low-skilled jobs. Another bill would prevent undocumented immigrants from winning legal status through normal channels repealing the "three-and-10-year bars."
Meanwhile, U.S. District Judge Andrew Hanen was assigned to hear the legal challenge. Judge Hanen, who was appointed to the bench in 2002 by President Bush, said the Obama administration was involved in the "criminal conspiracy" involving defendant Mirtha Veronica Nava-Martinez, a mother who paid $6,000 to smuggle her child from El Salvador to Virginia.