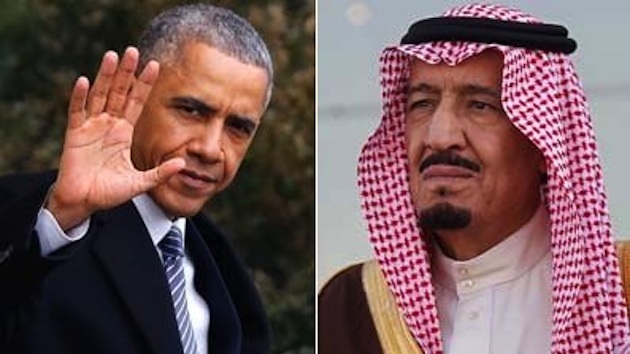 Richard Engel, NBC News' Chief Foreign Correspondent, said that the late Saudi King Abdullah "did not like," and in fact "could not stand President Obama."
"King Abdullah did not like President Obama," Engel said. "In fact, a lot of people I know who are quite close to the late King Abdullah said that the King could not stand President Obama because the president was supportive of the Arab Spring, and because the president did not support Hosni Mubarak in Egypt, in fact turned his back on Hosni Mubarak in Egypt."
It is certainly true that Abdullah was frustrated with President Obama's refusal to enforce his self-imposed "red line" in Syria and support the rebels in reality as well as rhetoric. But he was furious with Obama's decision to engage in diplomacy over Iran's nuclear program. Saudi Arabia, a crucial U.S. ally, wanted Obama to take a tougher stand against Iran, their Shiite arch nemesis across the Gulf.
"So, this close personal bond between the president and the Saudi leader is just people being polite at a time of sadness," Engel added.
The White House announced Obama has cancelled the end of his trip to India to fly to Saudi Arabia in the wake of the death of the country's king and growing instability in the region. White House spokesman Josh Earnest said the president and first lady Michelle Obama would travel to Riyadh on Tuesday to pay their respects to the royal family.
Officials are concerned that Abdullah's death will cause a power vacuum in Riyadh, particularly with events in Yemen and more so than experts previously believed. U.S. officials quietly say they do not consider Abdullah's replacement, his 79-year-old half-brother Salman bin Abdul-Aziz Al Saud, to be a strong or healthy ruler, which raises the possibility that others in the royal family could come to the forefront.
"What I think is most important is the idea of continuity. Saudi Arabia wants to maintain stability, they want to maintain the same policies which have worked for them, and kept the Saud family in power for nearly a century," Engel said. "That is the key thing here, not to, in fact, Saudi Arabia was actively against rapid moves towards democratization. One of the big ironies here is that President Obama in his statement said how close he was to King Abdullah."