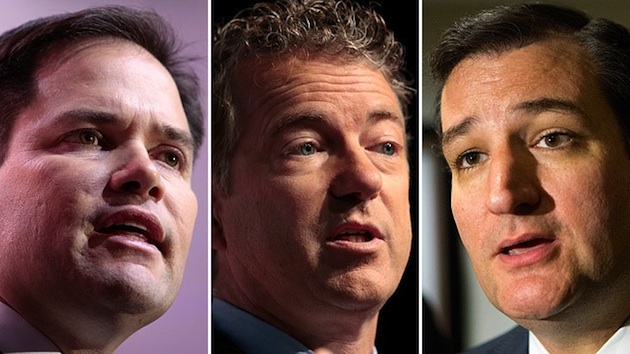 Likely 2016 Republican candidates Sens. Rand Paul (R-Ky.), Marco Rubio (R-Fla.), and Ted Cruz (R-Texas) will debate each other on a panel Sunday in Palm Springs, Calif.
Dubbed the "American Recovery Policy Forum," the panel is part of the winter meeting of the conservative, free-market group Freedom Partners that will be moderated by ABC's Jonathan Karl.
"Our members care deeply about the future of our nation and we're honored to host some of today's most influential and respected leaders in shaping public policy," James Davis, a spokesman for the group, said in a statement. "We hope that this panel will give each participant the opportunity to lay out their vision for a more free and prosperous society."
Sen. Rubio, , clashed with Sen. Paul last month after President Obama moved to normalize diplomatic relations with Cuba, and they will now appear side-by-side at the event Sunday.
"As with so many others opining on the situation, Sen. Paul doesn't know what he is talking about," Sen. Rubio said in an interview.
Rubio took several steps toward launching a presidential run this week. He asked his top advisors to prepare for a campaign, and hired big-dog Republican fundraiser Anna Rogers, who is currently the finance director for American Crossroads, the conservative group started by Karl Rove that raised more than $200 million over the past two elections.
Rubio will meet on Friday and Saturday at the Delano Hotel in Miami with 300 supporters and donors to fund his Reclaim America PAC and discuss his plans for his political future. According to his monthly schedule, he is also planning to travel to early-voting states in the coming weeks, ABC News has learned.
Meanwhile, Cruz will appear at the Iowa Freedom Summit hosted by Rep. Steve King (R-Iowa) on Saturday, alongside other possible presidential contenders, including New Jersey Gov. Chris Christie, Wisconsin Gov. Scott Walker, and former Texas Gov. Rick Perry.