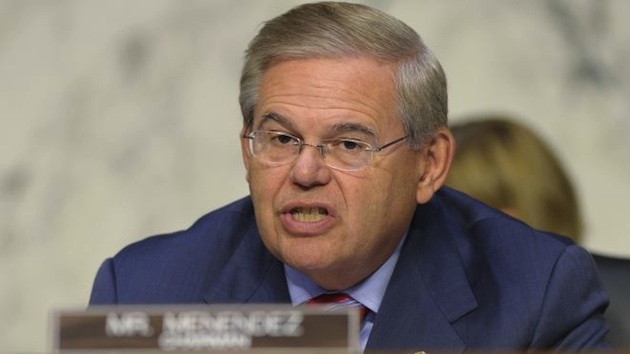 Sen. Bob Menendez (D-N.J.), the ranking Democrat on the Senate Foreign Relations Committee, slammed President Obama for opposing the Iran sanctions bill. During the State of the Union speech, Obama claimed "we've halted the progress of its nuclear program and reduced its stockpile of nuclear material," and promised to veto the bill if it passes because it would "all but guarantee that diplomacy fails."
The Democratic senator said the president's talking points on Iran sound as if they are "straight out of Tehran."
"The more I hear from the administration and its quotes, the more it sounds like talking points that come straight out of Tehran," Sen. Menedez said during a committee hearing this week. "And it feeds to the Iranian narrative of victimization, when they are the ones with the original sin."
The president argues that new sanctions would jeopardize the negotiations, a claim he made prior during a joint press conference with British Prime Minister David Cameron on Jan. 16. It was revealed at the conference that Cameron was actively lobbying members of Congress on the issue, making unprecedented phone calls to U.S. Senators to make the case against voting for the bipartisan bill crafted jointly with Sen. Mark Kirk (R-Ill.), a top target for Democrats in 2016 and the man who took Obama's seat in 2010.
The negotiations, which include the so-called "P5+1" — Britain, China, France, Germany and Russia — began with the first phone call in 30 years between the two nations, with President Obama and Iran's President Hassan Rouhani speaking in Sept., 2013. The two leaders agreed to a 6-month interim agreement that is now long-expired with no progress. The latest Nov. 24 deadline came and went with no deal, but the Obama administration continues to give the Iranian regime more time.
The Menedez-Kirk bill calls for the imposition of sanctions worth $1 billion each month if the talks do not result in an acceptable agreement by June 30. It would also require the Obama administration to certify every 30 days that Iran is adhering to the terms of the 6-month interim agreement and that it hasn't been involved in any act of terrorism against the United States.
Meanwhile, Iran has already enriched enough uranium to quickly produce two bombs, and is expected to have enough enriched uranium to produce a third bomb by June, the very month the new deadline expires. Under the interim agreement, Iran continues to enrich uranium to 3.5 percent purity in unlimited quantities, or approximately 60 percent of the purity needed to produce weapons-grade material.
The agreement also allows Iran to continue work at the Arak heavy-water reactor, where they are enriching plutonium for nuclear weapons and, nearby, manufacture parts that can quickly be assembled and moved to make the reactor capable of enriching weapons-grade plutonium.
The Iranians also have announced they will build two more light-water plutonium reactors, and continue to develop an Intercontinental Ballistic Missiles system to deliver the bomb, which recent analyses estimate will be complete by the end of this year.
If the Menendez coalition in the Senate can garner enough support, it would mark the first time Congress overrode Obama's presidential veto. But is it likely, or even possible?
"There's overwhelming support to toughen up the sanctions," said Chuck Schumer (R-N.Y.), a member of Democratic leadership who co-sponsored sanctions legislation last year. "The question is when. At times in the past the president asked for a little time, until March. That's something people are looking at."
Out of the Democrats left in the upper chamber post-2014 midterm elections, 11 Senate Democrats have co-sponsored Iran sanctions legislation with Sen. Menendez. If they all vote with the ranking member to overturn Obama's veto, then the Menendez-Kirk bill would need just 1 more Democrat if all Republicans hold steady.
But that's a big if.
Sens. Rand Paul (R-Ky.) and Jeff Flake (R-Ariz.) said earlier this month they would give the Obama administration time to reach a deal. Sen. Flake signaled during the committee hearing this week that he was willing to wait until the June deadline, but both senators gave statements blurring up their intentions.
"Senator Paul has supported previous sanctions, and believes they have helped bring Iran to the table," a Paul spokeswoman said in a statement. "The timing of this vote is important in relation to ongoing diplomatic negotiations is important, and since he can't determine when it will be brought up, he will for now keep an open mind on the bill."
As with Paul, Flake's willingness to wait isn't infinite.
"Talks on implementation of the Nov. 24 agreement are ongoing, but time is running out," Flake's office said in an email. "If Iran is simply using this as another stalling tactic, further congressional action will be warranted."
Still, even if the GOP senators come home, Democrats who previously supported the measure are getting weak in the knees.
"I'm considering very seriously the very cogent points that he's made in favor of delaying any congressional action," said Sen. Richard Blumenthal (D-Conn.). "I'm talking to colleagues on both sides of the aisle. And I think they are thinking, and rethinking, their positions in light of the points that the president and his team are making to us."
Translation: Obama called and smacked us down. It wouldn't be the first time this month. President Obama told Senate Democrats in a private meeting on Jan. 15 that he intended to "play offense" with the new GOP-majority Congress, and any Democrat not aboard with Team Left. According to reports, Sen. Menendez and Obama traded "sharp words" over the issue at the meeting.
The Democratic Party will have to decide if they want to be the party of nuclear proliferation. Hillary Clinton joined Obama in opposing new sanctions, calling them "a very serious strategic error."
"Had she taken a tougher line, she might actually have proved herself more than the Obama lackey she was during her tenure as secretary of state," Linda Chavez, the chair of the Center for Equal Opportunity, a non-profit public policy research organization, said last week.
Chavez, who applauded Menendez for his stance, said Democrats would be putting America at risk if they chose to be good team players. Whatever happens, there is widespread bipartisan agreement that the Congress will have to act if the talks, which Obama said had "less than a 50 percent chance of success," don't produce by June. If they do not, the New Jersey senator will undoubtedly contribute the failure to a weak hand played by the Obama administration, and a policy of making excuses for Iran in the hope to show good faith.
"An illicit nuclear weapons program going back over the course of 20 years that they are unwilling to come clean on," Sen. Menendez said. "So, I don't know why we feel compelled to make their case when, in fact they get to cheat in a series of ways and we get to worry about their perceptions."