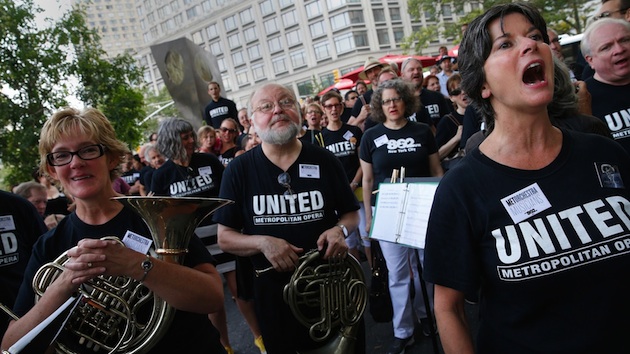 The Bureau of Labor Statistics said Monday that union membership fell to a 100-year low in the year 2014, further weakening organized labor in America.
In 2014, the union membership rate was 11.1 percent, down 0.2 percent from 2013 and 9 percent from the 20.1 percent measured in 1983, when BLS first began tracking comparable data. At the time, the number of union workers reflecting the actual rate —- which consists of the percent of wage and salary workers who were members of unions — was 17.7 million.
Though not completely comparable, the latest BLS latest figure is down considerably from the record high of nearly 35 percent in 1954.
The data on union membership are collected as part of the Current Population Survey (CPS), a monthly sample survey of about 60,000 households that obtains information on employment and unemployment among the nation's civilian non-institutional population age 16 and over.
But in a somewhat delusional and evidently illogical response, AFL-CIO President Richard Trumka managed to bash President Obama for touting the creation of "poverty-level jobs" in his State of the Union speech, while simultaneously blaming "right-wing billionaires' extremist politics, a rapacious Wall Street and insufficient advocacy from political leaders" for low-wage job creation that represented a whopping 70 percent of all jobs created in the Obama Recovery.
"In the State of the Union this week, President Obama celebrated the fact that our economy has benefitted from 58 consecutive months of job growth and reiterated the need for laws that strengthen unions and give workers a voice," Trumpka said in a statement. "But the most important question is not simply how many jobs we're creating, but are we creating jobs that raise wages for all?"
The union-Democrat alliance has been tested in recent years under President Obama, most notably over the construction of the Keystone XL pipeline,
Still, Trumka and other union leaders, are firmly on the left and clearly signaling they are on board a long-backed progressive effort to raise the federal minimum wage.
"A strong recovery must be built on family-sustaining, not poverty-level jobs," Richard Trumka, president of the AFL-CIO said in a statement Monday. "Today's news confirms what most of us already knew: workers are finding good union jobs despite political ideologues—and jobs are coming back as the economy slowly rebounds, but neither are nearly enough."
The president raised the federal minimum wage for public employees via executive fiat, and when we take a look at the public- vs. private-sector union membership rates, it becomes pretty clear what it truly behind the effort.
According to the BLS report, the public-sector had a union membership rate  of 35.7 percent, which is more than five times higher than the abysmal 6.6 percent rate measured among private-sector workers. Yet, Trumpka predictably had a different take on Monday's report.
"Today's release of the annual union membership numbers by the Bureau of Labor Statistics shows that in this economic recovery, people are either seeking out good union jobs or taking matters into their own hands by forming unions to raise wages and ensure that new jobs are good jobs," he said.
However, the data-trends simply can't support Mr. Trumpka's claim.
Consistent with year-over-year declines measured in the past, just 10 percent of Americans identified as union members in a Gallup poll conducted from Aug. 7-10. At the heart of unions' declining membership problems lays a long-observed ideological shift in America and distrust that is fueling increased disapproval in organized labor.
"At the same time Americans express greater approval than disapproval of unions, they widely support right-to-work laws," said Jeffrey M. Jones at Gallup.
A whopping 71 percent of Americans say they would vote for a right to work law, while 82 percent of Americans agree that "no American should be required to join any private organization, like a labor union, against his will," a central tenet of right to work philosophy.
Even before the widespread Democratic defeats down ballot in 2010 and 2014, 24 states had already passed right to work laws. Republicans are now in charge of 68 of the 98 partisan legislative chambers and control 30 state legislatures, which is the most they've held in 150 years, as well as hold a 31-18 gubernatorial edge nationally.
With Democrats losing 11 more bodies in 2014 alone, including the Colorado Senate, the Maine Senate, the Minnesota House, the Nevada Assembly, the Nevada Senate, the New Hampshire House, the New York Senate, the New Mexico House, the Washington Senate, and both the West Virginia House and Senate, Republicans are hoping to expand right to work in several other states.
Even though Americans typically favor choice no matter the issue, philosophy may not be the only contributing factor to the success of the right to work movement. In Gallup's annual Confidence in Institutions survey, only 10 percent said they have a great deal of confidence in organized labor, and only 12 percent say they have quite a lot of confidence in them.
The future of both public and private labor unions is very much in doubt. They are bleeding membership, and losing the battles for both public opinion and legal opinion. In June, the Supreme Court ruling in Harris v. Quinn dealt a significant blow to the effort to expand public employee unions, but it did not gut them.
Because of the ruling, unions lost a tool of coercion they've used to expand their membership, reach and political power for decades. Many legal experts believe the high court will overturn prior precedent and completely forbid requiring public employees to contribute to union bargaining, rather than membership dues.