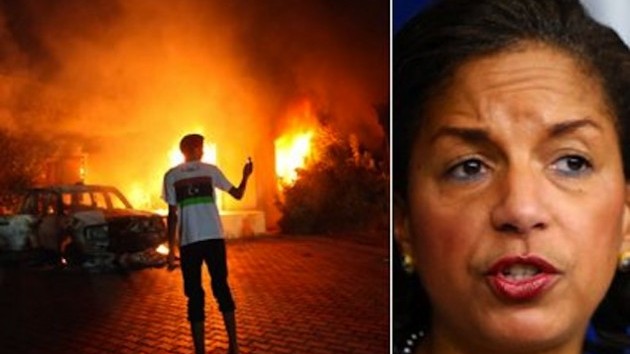 Newly uncovered documents show U.S. Africa Command knew the group responsible for the June 6, 2012, attack on the Benghazi Special Mission Compound "declared" Libya "an Islamic State."
The Pentagon documents also reveal AFRICOM knew the attack "came in response to the 5 June [2012] drone strike on al-Qaida senior leader Abu-Yahya al-libi."
The information was uncovered as a result of a federal lawsuit filed by the government watchdog group Judicial Watch on September 4, 2014, (Judicial Watch v. Department of Defense (No. 1:14-cv-01508)), which finally forced the Obama administration to release some 486 heavily redacted documents.
"Why does the Obama administration continue to black out history in these military documents? If there were no embarrassing facts, there would be nothing to hide," said Judicial Watch President Tom Fitton. "This lack of transparency is an insult to those in the military and other deployed U.S. government personnel whose morale has been decimated by the breach of trust caused by President Obama's Benghazi lies and failures."
The documents further show that — despite former Secretary of State Hillary Clinton's claims to the contrary — the administration was well-aware of the critical security threat to American personnel in Libya.
"The DIA [Defense Intelligence Agency] terrorism threat level for Libya is significant," one email blatantly states. "The DOS [Department of State] residential criminal threat level for Libya is high and the non-residential criminal threat level is high. The political violence threat level for Libya is critical."
Meanwhile, Rep. Trey Gowdy, R-S.C, the Chairman of the House Select Committee on Benghazi, recently announced they will begin interviewing State Department personnel this month.
"I am announcing an ambitious timeline for interviews consistent with my plan to speed-up the pace of the investigation" said Chairman Gowdy. "I intend to stay with this schedule and will issue subpoenas if necessary."
Notable names on the House select committee's list include top aides to Hillary Clinton, Cheryl Mills and Jake Sullivan. But what of the former secretary of state and likely 2016 Democratic nominee, herself?
Sharyl Attkisson, a senior independent contributor to The Daily Signal, reported that both Democrats and Republicans want to schedule the appearance of Hillary Clinton "as soon as possible."
However, Chairman Gowdy, a former prosecutor, said the State Department must first provide documents that were initially subpoenaed in 2013, but have yet to arrive. Gowdy says he wants time for the documents to be reviewed in order to "constructively ask questions of Secretary Clinton."
The administration has repeatedly stonewalled congressional requests for documents pertaining to the 2012 Benghazi terror attack, which claimed the lives of four Americans, including Ambassador Chris Stevens. In fact, the select committee was only established after Judicial Watch obtained emails from Ben Rhodes, which the administration previously withheld from Congress in an identical request.
Rhodes, who was the deputy national security adviser for strategic communications and assistant to President Obama, fed then-U.N. ambassador Susan Rice the now-infamous talking points, which claimed "a spontaneous" attack in Benghazi was brought on by an "Internet video."
"To underscore that these protests are rooted in an Internet video, and not a broader failure of policy," Rhodes coached in his email. "We find it disgusting and reprehensible. But there is absolutely no justification at all for responding to this movie with violence."
Rice would go on to repeat the latter statement verbatim during Sunday show appearances on ABC, CBS, NBC, Fox News and CNN. Rice was rewarded with a promotion to national security advisor.
"It is extraordinary that we had to wait for over two years and had to force the release of documents that provide the first glimpse into the military response to the terrorist attack in Benghazi," Fitton added. "There is no doubt that the military considered this to be terrorist attack tied to a group allied with al Qaeda."
A majority of Americans agree with Mr. Fitton on the issue. According to a recent poll, voters approve of the decision to establish a select committee by a whopping 67-28 percent margin, which includes a 55-percent majority of Democrats. Further, by a 51-39 percent margin, voters say the White House knowingly lied about the attacks to help President Obama's re-election campaign, while 50 percent say the same about Hillary Clinton.