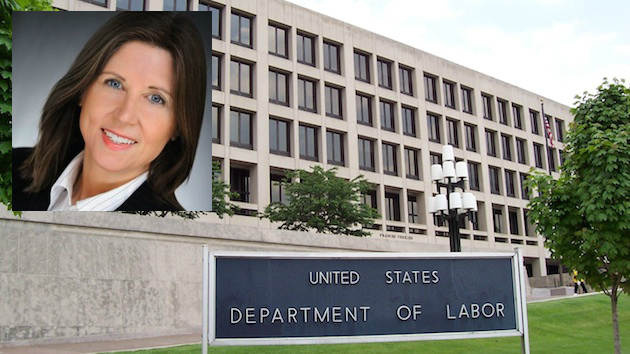 Elizabeth A. Ashack, an economist at the Labor Department, recently deleted a less-than flattering tweet comparing Christians in Indiana to Nazis. Fearing a firestorm, Ashack deleted the tweet after Right Scoop posted it on their blog shortly before PPD captured the image below.
PPD has made numerous attempts to allow Ashack and the Labor Department to respond, but those attempts have gone unanswered.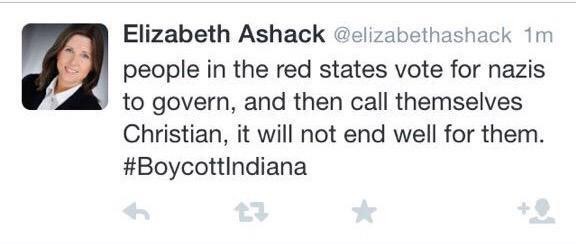 The #BoycottIndiana hashtag that accompanied the comment are clear references to the Religious Freedom Restoration Act signed by Indiana Gov. Mike Pence, which has left-wingers in an uproar. Opponents of the law on the Left, to include the media, have argued the law allows Christians to discriminate against gays and lesbians. However, much of the "substance" heard in the war cries the law has invoked are simply inaccurate.
"If there is a government action or a law that an individual believes impinges on their religious liberty, they have the opportunity to go to court," Gov. Pence said Sunday in a heated interview with George Stephanopoulos. "Just as The Religious Freedom Restoration Act that Bill Clinton signed allowed them, the court would evaluate the circumstance under the standards articulated in this Act. That's all it is."
In fact, the language of the law is nearly identical to the 90s-era bill signed by Clinton, as well as the Illinois law supported by then-state Senator Barack Obama.
"Except as provided in subsection (b), a governmental entity may not substantially burden a person's exercise of religion, even if the burden results from a rule of general applicability. (b) A governmental entity may substantially burden a person's exercise of religion only if the governmental entity demonstrates that application of the burden to the person: (1) is in furtherance of a compelling governmental interest; and (2) is the least restrictive means of furthering that compelling governmental interest," the law says.
"A person whose exercise of religion has been substantially burdened, or is likely to be substantially burdened, by a violation of this chapter may assert the violation or impending violation as a claim or defense in a judicial or administrative proceeding, regardless of whether the state or any other governmental entity is a party to the proceeding," it adds. "If the relevant governmental entity is not a party to the proceeding, the governmental entity has an unconditional right to intervene in order to respond to the person's invocation of this chapter."
What is particularly concerning is that a Labor Department official is so openly supportive of an organized effort to boycott and shame businesses in any state. Whether it is ethical for any public servant to lend any support — tangible or intangible — to an intentional effort to damage a state's economy, is a question the Labor Department has yet to answer.
According to agency records, Ashack has worked for the Labor Department since September 1998, focusing most of her efforts on research that unsurprisingly benefits the cause of organized labor. She has changed her Twitter biography by deleting any reference to the Department of Labor, but her LinkedIn profile as of this writing still proudly declared the association.
And when you see these headlines about — about Indiana, a license to discriminate in Indiana and — and — it just — I'm telling you, George, it is a red herring and I think it's deeply troubling to millions of Americans and — and, frankly, people all across the state of Indiana who feel troubled about government overreach.