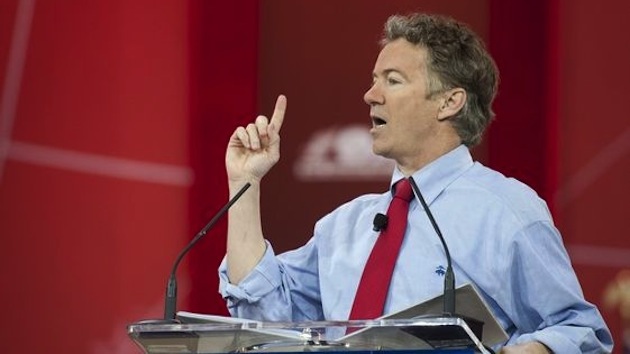 A new Sen. Rand Paul ad teases the prospect the Kentucky libertarian will make a 2016 announcement this week, promising a "different kind of Republican leader."
"On April 7, a different kind of Republican will take on Washington," the video reads in the open, with an outline of Sen. Paul in the background.
Sen. Paul has been an outspoken critic of the party's previous electoral strategy, championing civil liberties and arguing the base must be expanded if the GOP hopes to grow. He opened field offices in Detroit and other urban voting centers, proposing the "economic freedom zones" as an alternative to Democratic policies he says have failed minorities.
"Liberal policies have failed our inner cities," Paul says in the video during a speech at the 2015 Conservative Political Action Conference (CPAC).
Whether Sen. Paul wins the Republican nomination or not his candidacy will have an enormous impact on the Republican Party.
As PPD recently examined, polls suggest Sen. Paul has a far better shot at winning the nomination and a general election juxtaposed to previous libertarian and libertarian-leaning candidates than other pundits want to admit. Paul has consistently run stronger than other GOP hopefuls against Hillary Clinton, and has demonstrated the greatest potential to expand the party's appeal.
In 2013, the senator began visiting constituencies Republicans have rarely courted in recent elections, reaching out to minority voters in inner-city neighborhoods.
In January, Paul advanced his unconventional efforts by hiring Chip Englander, the former campaign manager for Illinois Republican Bruce Rauner, who defeated incumbent Democratic Gov. Pat Quinn last November.
The GOP Establishment's consultant class quietly (and sometimes publicly) mocked Rauner for reaching out to traditional Democratic voters, including inner-city minorities, many of whom endorsed and subsequently voted for him. Rauner, who PPD accurately predicted would win, proved the talking heads wrong.
"It's time for a new way, a new set of ideas, a new leader; one you can trust and who works for you," Paul says in video. "And above all, it's time for a new president."
Youth voters are another voting bloc crucial to Paul's coalition and base support, which he has sought to expand recently when he took a trip to UC Berkley to give a speech opposing NSA data mining and spying.
Paul not only won three consecutive CPAC straw polls, but he did so at a time when the conference underwent a dramatic demographic shift.
CPAC 2015 saw a record-breaking 11,344 in attendance, with the straw poll results coming from 3007 participants, a 20 percent increase from the year prior. Over 42 percent in the poll were students who came from all across the country, marking the greatest number of youth voters to ever participate in the CPAC straw poll.
"ON APRIL 7, one leader will STAND UP to DEFEAT the Washington machine and UNLEASH the American Dream," the ad reads on closing.