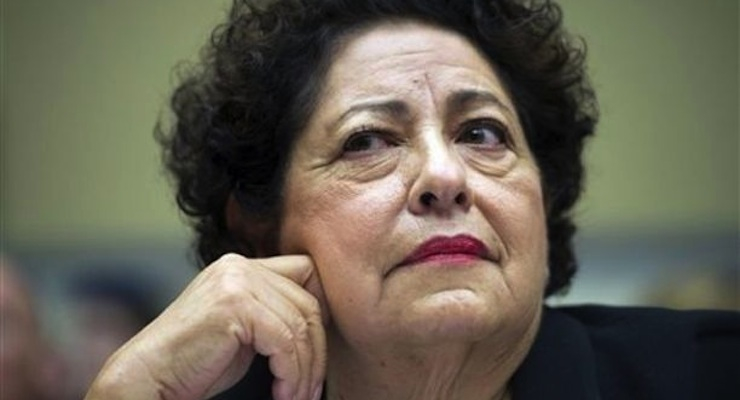 OPM Director Katherine Archuleta resigned Friday following confirmation of a massive data breach that allowed hackers to steal the records of more than 21 million people. PPD confirms. Archuleta submitted her resignation after the Office of Personnel Management (OPM) released findings in a statement Thursday on the investigation into a pair of major hacks believed to have been carried out by China.
"The team has now concluded with high confidence that sensitive information, including the Social Security Numbers (SSNs) of 21.5 million individuals, was stolen from the background investigation databases," the statement said. "This includes 19.7 million individuals that applied for a background investigation, and 1.8 million non-applicants, predominantly spouses or co-habitants of applicants. As noted above, some records also include findings from interviews conducted by background investigators and approximately 1.1 million include fingerprints."
White House spokesman Josh Earnest claimed Friday that Archuleta submitted her resignation without nudging from the president, stating it was "quite clear" to Obama new leadership at OPM is desperately needed, regardless. However, House Republican leadership say that she is just the tip of the incompetent iceberg, and while they welcome the resignation, much more needs to be done.
"This is the absolute right call," House Oversight and Government Reform Chairman Jason Chaffetz said in a written statement following the announcement. "OPM needs a competent, technically savvy leader to manage the biggest cybersecurity crisis in this nation's history. The IG has been warning about security lapses at OPM for almost a decade. This should have been addressed much, much sooner but I appreciate the President doing what's best now."
Archuleta will be replaced by Beth Cobert, according to administration source that spoke to PPD on the condition of anonymity. They said that the president did push the former OPM head to resign so that Cobert, who currently serves in the White House budget office, could take over.
In a statement, Archuleta said the move was the right thing to do in order to allow the agency to "move beyond the current challenges." She praised the agency's employees as "some of the most dedicated, capable and hardworking individuals in the federal government."
"I have complete confidence in their ability to continue fulfill OPM's important mission of recruiting, retaining and honoring a world-class workforce to serve the American people," Archuleta said.
The now former OPM head was no stranger to controversy, though her name has only recently been in headlines. During the 2012 election, Archuleta served as a key political strategist in the Obama campaign. In hindsight, she came under fire for a tweet that seems rather ironic for two reasons.
Mitt Romney's statements reveal "little understanding of what's going on in the 21st century": http://t.co/0JBikUFh #RomneyNotReady

— Katherine Archuleta (@Archuleta2012) October 22, 2012
Mitt Romney was lambasted and somehow characterized as backward-thinking when he criticized the president's handling of the growing cyber threat from China. Further, he was openly mocked by President Obama during the 2012 foreign policy debate for calling Russia the greatest geopolitical enemy facing the United States.
Marine General Joseph Dunford, who was nominated to become chairman of the Joint Chiefs of Staff, told lawmakers on Thursday he agreed, adding the old Col War foe's behavior is "nothing short of alarming." Now, on the heels of Archuleta losing her job over an attack the former Massachusetts governor repeatedly warned of, it would appear it is she who was ill-prepared for 21st century threats.
And she has paid for it with her job and reputation.
IF YOU FEEL YOU MAY HAVE BEEN IMPACTED
OPM said it is "highly likely" anyone who underwent a background investigation through the agency since 2000 has been affected. The 21.5 million number mostly includes those who applied for one, but also 1.8 million others, "predominantly spouses or co-habitants of applicants."
In the coming weeks, OPM will begin to send notification packages to these individuals, which will provide details on the incident and information on how to access these services. OPM will also provide educational materials and guidance to help them prevent identity theft, better secure their personal and work-related data, and become more generally informed about cyber threats and other risks presented by malicious actors.