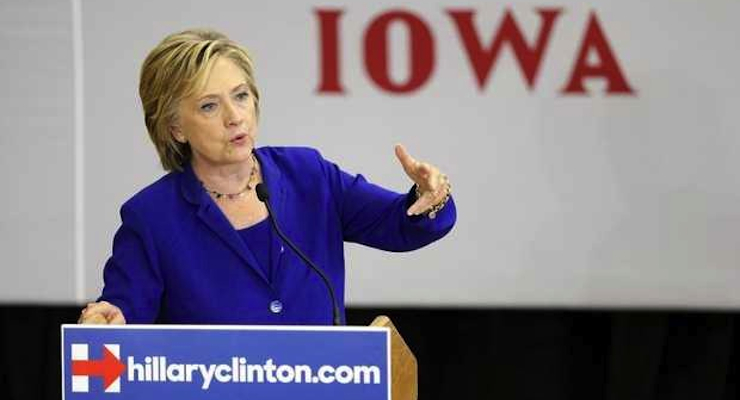 While the world and major American media outlets were focused on Pope Francis arriving for his first ever visit to the U.S., Democratic frontrunner Hillary Clinton told a relatively small crowd of supporters in Iowa on Tuesday she opposes the Keystone pipeline.
"I think it is imperative that we look at Keystone pipeline as what I believe it is, a distraction from the important work we have to do to combat climate change," Clinton said. "And unfortunately, from my perspective, one that interferes with our ability to move forward to deal with the other issues. Therefore I oppose it. I oppose it."
The announcement, which came just moments after the Pope took to the red carpet at Andrews Air Force Base, marks a complete 180 on the former secretary of state's position while she was serving out her tenure, but most recently she resorted when pressed to telling voters they would know where she stands on the issue after she becomes president. Clinton said she shouldn't take a position on the issue because it might interfere with the Obama administration's decision-making process regarding the project that would transport oil from Canada's tar sands to refineries on the Gulf of Mexico.
Further, she in 2010, while speaking on the issue that was making its way through the State Department review process, Clinton told a San Francisco audience, "We're either going to be dependent on dirty oil from the Gulf or dirty oil from Canada." With this and other statements weighing on activists and special interest donors like millionaire hedge fund activist Tom Steyer, she began to run out of time on dodging the issue. Clinton's campaign events in New Hampshire and Maine last week were attended by activists who held signs that read "I'm Ready for Hillary to say no KXL." They were shouting and demanding she oppose the pipeline.
Meanwhile, according to multiple State Department reviews and findings, both from reports conducted during her tenure and now-Secretary John Kerry, the Keystone pipeline would actually benefit the environment as it would reduce emissions from transporting oil via rail and other methods already in place. The decision will no doubt enrage already unexcited labor unions, who support the project and have grown increasing frustrated with the Obama administration. Unfortunately, for them, they have little other choice in what has quickly become a party moving farther-and-farther to the Left.
Vermont Sen. Bernie Sanders, a loud and proud self-proclaimed socialist and Hillary's main primary opponent until Vice President Joe Biden jumps into the race, is running against the Keystone pipeline and for the millions of dollars from Steyer that comes with it.
.@HillaryClinton's statement opposing #KeystoneXL pipeline reflects will of American people on climate. I urge our leaders to follow suit.

— Tom Steyer (@TomSteyer) September 22, 2015
"As a senator who has vigorously opposed the Keystone pipeline from the beginning, I am glad that Secretary Clinton finally has made a decision and I welcome her opposition to the pipeline," Sanders said in a statement following the announcement. "Clearly it would be absurd to encourage the extraction and transportation of some of the dirtiest fossil fuel on the planet."
While her opposition to the Keystone pipeline is clearly aimed at preventing Sanders from hitting her on her primary left flank, the announcement now presents a challenge to her in the general election. According to aggregate polling, roughly 70 percent of the American people support its construction. While the president downplayed the economic benefit of approving the pipeline–after caving to radical environmentalists, when he delayed the construction indefinitely–a recent study found that a 485-mile stretch of the pipeline has been a huge economic boon for some two dozen poor Oklahoma and Texas counties.
Leading economists have concluded construction of the entire pipeline will pay greater-than-expected economic dividends, which will be difficult for Clinton to explain to working class whites in the fall.