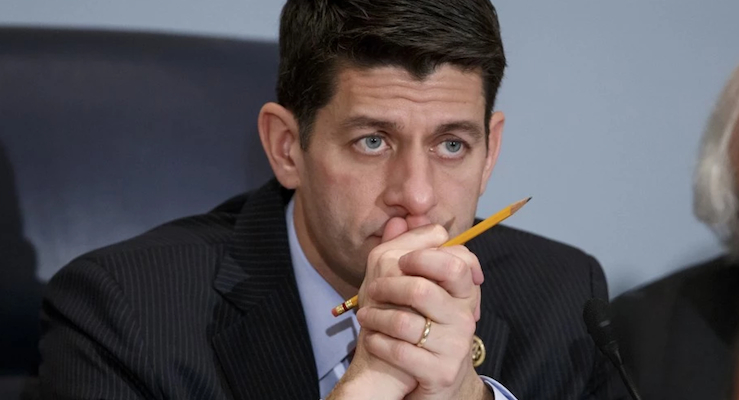 Ways and Means Chair Paul Ryan, R-Wis., reacted Thursday to the news that House Majority Leader Kevin McCarthy, R-Calif., has dropped out of the race. The surprise decision will postpone the vote for speaker.
"Kevin McCarthy is the best person to lead the House, and so I'm disappointed in this decision," Ryan said. "Now it is important that we, as a Conference, take time to deliberate and seek new candidates for the speakership. While I am grateful for the encouragement I've received, I will not be a candidate. I continue to believe I can best serve the country and this conference as Chairman of the Ways and Means Committee."
It's unclear what specifically made McCarthy change his mind and drop out, but he came under fire after a Fox News interview last week where he appeared to link Hillary Clinton's dropping poll numbers to the congressional Benghazi committee. Democrats cited the comment as proof the Benghazi select committee was political in nature, which GOP members and leaders vehemently deny.
Nevertheless, Rep. Jason Chaffetz, R-Utah, the chairman of the House Oversight and Government Reform Committee, called the comments irresponsible and threw his hat in the ring along with Daniel Webster, R-Fla., who earned a surprising amount of votes in the last election for speaker. Webster, though, has won over the conservative wing of the party. The House Freedom Caucus–with its 30-40 members–decided it would unite and back Webster Wednesday evening.
It is difficult to imagine solid conservatives throwing any support behind Chaffetz, considering the history. Conservatives have referred to McCarthy has open-minded and a good listener, something that can not be said of Chaffetz. He stripped Rep. Mark Meadows of his subcommittee chairmanship after he defied party leaders on the controversial trade bill that gave the president fast-track authority, though he buckled shortly after conservatives pushed back and reinstated Meadows as subcommittee chairman.
Conservative talk radio host Mark Levin referred to the top three House leaders—Boehner, McCarthy and Majority Whip Steve Scalise, R-La.—as "Moe, Larry and Curley," with Chaffetz being the "shrimp in there somewhere."
Meanwhile, Rep. Trey Gowdy, R-S.C., the head of the special Benghazi Committee who has been pushed to run for majority leader by Chaffetz and speaker by other conservatives, said he wishes Ryan would jump into the race. However, Gowdy said he understands why Ryan isn't interested in the job.
"To me, just speaking as one member, the smartest kid in the class is Paul Ryan," Gowdy said. "If I had one draft choice and I was starting a new country, I would draft Paul to run it. Not because I agree with him on everything, but because he's super, super smart. And when someone is super, super smart and is not interested, that tells you something. It tells me a lot."