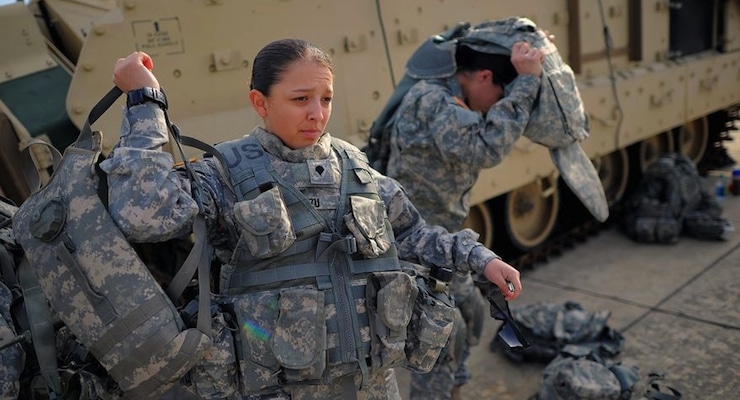 Under President Obama's direction, Defense Secretary Ash Carter will order the military to open up all combat jobs to women, despite objections from the Chairman of the Joint Chiefs of Staff.
The Associated Press reported on Thursday Carter, who is expected to make his announcement Thursday, is giving the armed services until Jan. 1 to submit plans to make the historic change.
"There will be no exemptions," Mr. Carter told reporters at a press conference. "To succeed in our mission of national defense, we cannot afford to cut ourselves off from half the country's talents and skills. We have to take full advantage of every individual who can meet our standards."
The Obama administration's decision ignores arguments from the Joint Chiefs of Staff chairman that the Marine Corps should be allowed to exclude women from certain front-line combat jobs, citing studies showing that mixed-gender units aren't as capable as all-male units.
In September, the Marines released a study that found that all-male infantry units performed at a higher-level than units with women in them. Worth noting, both the study and the AP report confirm some of the accusations made by military sources to PPD on the issue of women in combat. The study found that the all-male units are more mobile (quicker), are more lethal largely because they fire their weapons more accurately, could carry significantly more weight and suffered fewer injuries than co-op or "gender-integrated" units.
The injuries suffered by female Marines, none of which were able to pass basic infantry training at Parris Island without significantly reducing the physical standards expected of male Marines, included stress fractures that were likely the result of carrying heavy loads (such as weaponry and rucksacks). However, the report did acknowledge that "female Marines have performed superbly in the combat environments of Iraq and Afghanistan and are fully part of the fabric of a combat-hardened Marine Corps after the longest period of continuous combat operations in the Corps' history."
Critics point to a 25-year-old report cited in the study, and have argued the data is outdated. Proponents of the prohibition, however, argue the data is more reliable because it was gathered in an era absent of PC influence.