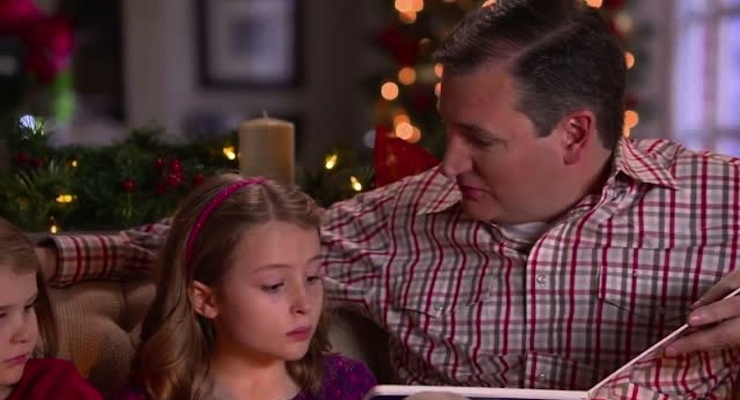 [brid video="22941″ player="2077″ title="Cruz Christmas Classics Texas Senator"]
Texas Sen. Ted Cruz released a web ad entitled "Cruz Christmas Classics," in which he sits with his wife and two girls reading aloud spoofs of Christmas tales. The senator, who is now the Iowa frontrunner, shows off his sense of humor while appealing to the evangelical base that will make up over 55% of caucus-goers in a few weeks.
"Imagine your favorite Christmas story, read by the Senator who once read Green Eggs and Ham on the Senate floor," a narrator begins the new web ad.
Cruz holds a slight 1-point lead on the PPD average of Iowa Republican caucus polls, but has topped three out of the four polls taken in December by 5, 2 and 10 points, respectively. The latest Des Moines Register Poll conducted by Selzer & Co., the gold standard poll on the PPD Pollster Scorecard, shows Cruz cruising along weeks before the caucus with a 10-point lead.
"It was the night before the shutdown, and all through the House, not a bill was stirring, not even to fund a mouse," the Texas senator says with a giggle.
PPD's separate research over the last month has shown that Cruz is leading among caucus-goers who participated in the last two election cycles. Chuck Laudner, Rick Santorum's former Iowa chief, is doing terrific job at bringing in new caucus-goers for national frontrunner Donald Trump, but whether they will actually show up remains a big question.
"If you are not completely satisfied with this collection of Cruz Christmas classics, you probably hate Christmas, and America."