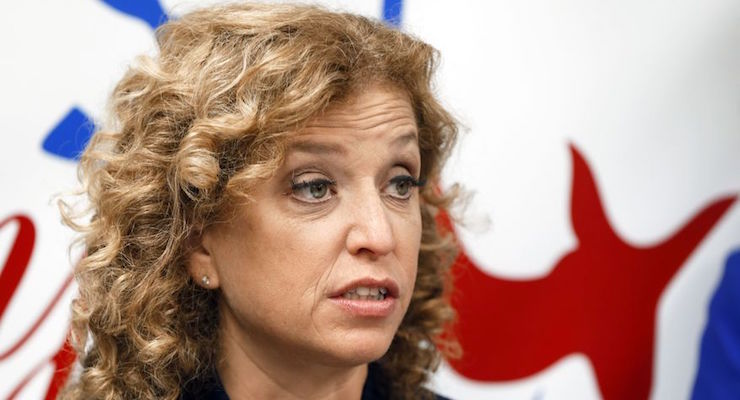 A movement to replace Democratic National Committee Chair Debbie Wasserman Schultz is gaining traction among progressives who want her removed from her post immediately. The Washington Times first reported that the progressive advocacy group RootsAction on Tuesday was touting a 4-day-old petition to dump Ms. Wasserman Schultz has already received 23,000 signatures.
The group, among others in the media and opposing party, claim Wasserman Schultz is hurting the Democratic party's credibility by rigging the presidential primary process in favor of Hillary Clinton.
"The head of one of the two big political parties in the United States is trying to manipulate the presidential election process by limiting direct debate and tilting the national party apparatus in favor of one candidate. This is unacceptable," RootsAction.org cofounder Norman Solomon told The Times in a statement.
Without a doubt, socialist Vermont Sen. Bernie Sanders and former Maryland Gov. Martin O'Malley have criticized the DNC chair for scheduling limited debates during weekends and time slots when fewer viewers and voters will be watching. The latter actually called her out for doing so during the first debate.
As a result, the DNC is holding just six official debates this primary season, with several of those have been held over weekends. In fact, the next debate will take place on Sunday, Jan. 17. Further, the DNC recently revoked Sanders' access to the party's master voter list after his operative hacked into voter data for Hillary Clinton's campaign.
"The results, thus far, have been bad from the perspective of Wasserman Schultz's own party, including domination of the media's extensive election coverage by the other big party. Another result has been reduced exposure for the Democratic candidate polling strongest against Republican rivals, Bernie Sanders," RootsAction cofounder Jeff Cohen said.
But Wasserman Schultz also recently came under fire last month when her mismanagement of the DNC was revealed in the form of a proposal to redirect funding for children's disease research in order to pay for the party's national convention. The CBO revealed the plan "to defray expenses" incurred during the four-day, elaborate charade when they published their scoring in mid-December. The CBO explained that the Gabriella Miller Kids First Research Act ended the authority to spend resources in the Presidential Election Campaign Fund (PECF) for such purposes.
Republicans said they didn't need to take from the children's disease fund because, unlike Wasserman Schultz, Republican National Committee (RNC) Chair Reince Priebus has been widely praised for his management of the national party's finances.
In the year since the ban, the DNC has raised $51.2 million through Oct. 31, but spent $53.4 million. Their balance and burn rate is abysmal in the year before major elections, while the RNC raised $89.3 million in the same period and spent only $74 million, stockpiling $20.4 million in cash.