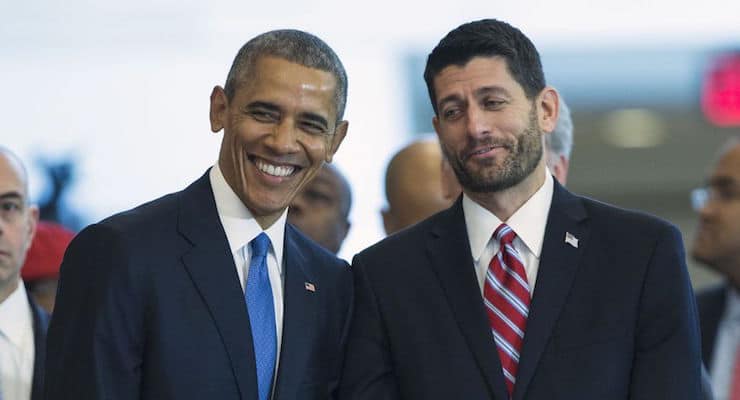 President Barack Obama proposed a record $4.1 trillion federal budget on Tuesday, including $19 billion to modernize and protect computer systems vulnerable to cyber attacks. The plan also calls for $2.6 trillion in tax increases over ten years, $1 billion in new spending to fight cancer, and a $10 per barrel tax increase on oil.
The president announced late last year he was putting Vice President Joe Biden in charge of a task force to cure cancer, which proposed more government spending. The leadership in the Republican-controlled Congress essentially signaled the president's budget will be dead on arrival.
"President Obama will leave office having never proposed a budget that balances—ever," House Speaker Paul Ryan, R-Wis., said in a statement. "This isn't even a budget so much as it is a progressive manual for growing the federal government at the expense of hardworking Americans."
Obama proposed the record-setting spending plan only a week after the U.S. national debt surpassed $19 trillion for the first time ever, which was a milestone that came only a month after new dire budget projections were released. The Congressional Budget Office (CBO) last month released their revised budget projections that show the federal deficit ballooning as a result of the compromise between President Obama and the newly elected speaker.
However, Speaker Ryan appears unwilling to abdicate to the president on the new proposal, which he says will hurt the economy and further put the U.S. on a path toward fiscal insolvency.
"The president's oil tax alone would raise the average cost of gasoline by 24 cents per gallon, while hurting jobs and a major sector of our economy," Speaker Ryan added. "Americans deserve better. We need to tackle our fiscal problems before they tackle us. House Republicans are working on a balanced budget that grows our economy in order to secure a Confident America."
Even without the new spending proposed by the president, the CBO issued a grave warning to lawmakers and the White House. The CBO report said the deficit will hit $544 billion in fiscal year 2016, which represents a staggering 24% increase over the prior year. It's also represents a far cry from what the analysts had projected and promised in August, when they told Congress deficits would continue to fall on the margins.
"If current laws generally remained unchanged, the deficit would grow over the next 10 years, and by 2026 it would be considerably larger than its average over the past 50 years," the CBO projected. "Debt held by the public would also grow significantly from its already high level."