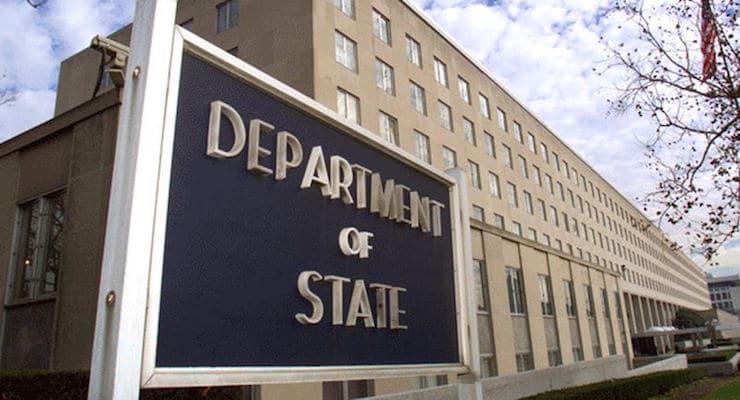 What do the State Department and Katie Couric have in common? They both just admitted to intentionally doctoring video footage to hide something damning, subsequently resulting in the further loss of trust and credibility.
In a truly stunning admission on Wednesday, the State Department admitted that an official intentionally deleted several minutes of video footage from a controversial 2013 press briefing, where then-spokeswoman Jen Psaki appeared to admit to misleading the press over the Iran nuclear deal.
Psaki, who has run up a long list of misleading statements to the press, is now outrageously the White House Communications Director.
"There was a deliberate request [to delete the footage]–this wasn't a technical glitch," Admiral John Kirby, the currently State Department spokesman said Wednesday. Mr. Kirby said that a video editor did "excise" the segment.
When the the State Department originally came under fire earlier this year over the missing tape from a December 2013 briefing, they suggested it was a "glitch" and not an intentional edit. At the particular briefing, Psaki was asked by Fox News' James Rosen about an earlier claim that no direct, secret talks were underway between the U.S. and Iran–when, in fact, they were.
"There are times where diplomacy needs privacy in order to progress. This is a good example of that," Psaki said at the time.
However, Fox News later discovered the 8-minute exchange between Rosen and Psaki was missing from the department's official website and its YouTube channel. It was edited out, as in deleted, and replaced with a white-flash effect.
"I had no knowledge of nor would I have approved of any form of editing or cutting my briefing transcript on any subject while at the State Department," Psaki said in a statement.
Why would they want to delete the footage?
In February 2013, then-State Department spokeswoman Victoria Nuland claimed during a briefing there were no secret, direct talks with Tehran taking place at that time. That's significant considering the recent New York Times Magazine profile of Deputy National Security Adviser Ben Rhodes, who flat-out bragged about creating an "echo chamber" to sell the Iran deal.
speaking as a former diplomatic reporter, State's removal of @JamesRosenFNC's Q&A was outrageous. https://t.co/R9UO8eopl6

— Glenn Kessler (@GlennKesslerWP) June 1, 2016
Meanwhile, in unrelated yet related news, EPIX has pulled an anti-Second Amendment documentary "Under the Gun" after director Stephanie Soechtig and executive producer/narrator Katie Couric were caught replacing the gun rights activists' answers to a question with footage shot at a different time. Instead of showing a lucid answer by a member of the Virginia Citizens Defense League, they replaced it with 8 seconds of silence in an attempt to portray them as ignorant.
"As of today, the doc moves out of the premium window — off of EPIX — and into a transactional VOD and EST window," Epix said in a statement. "This is part of the original agreement struck when we acquired the doc coming out of Sundance."
Whether that is true or not, Ms. Couric also tried to defend the blatantly dishonest move and deny the intention behind doctoring the footage. Now, she joins the State Department in making a stunning admission.
On the film's website, she wrote that she regrets the edit and claims to have questioned the "beat" when she screened an early version of the film with Soechtig and the documentary's editor.
"I regret that those eight seconds were misleading and that I did not raise my initial concerns more vigorously," Couric wrote. "I hope we can continue to have an important conversation about reducing gun deaths in America, a goal I believe we can all agree on."
Couric's views on gun rights, that is to say she doesn't believe Americans should have any, are well known.