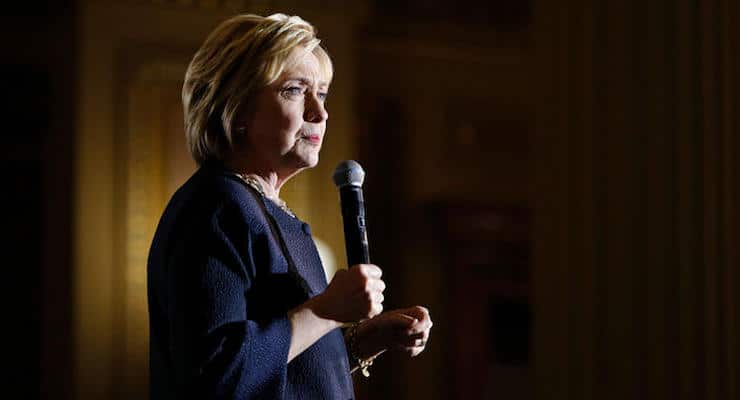 California Gov. Jerry Brown and the Natural Resources Defense Council endorsed Democratic candidate Hillary Clinton ahead of the state's primary on June 7. The announcements come as the former secretary of state attempts to fend off a challenge from Vermont Sen. Bernie Sanders, a self-described socialist who was never supposed to give the favorite much of a fight.
For the NRDC, a major environmental group, it marks the first political endorsement for the leftist group ever in a presidential election. The group's president specifically cited Donald Trump's "America First" energy speech in North Dakota as a main reason for the decision.
"Hillary Clinton is an environmental champion with the passion, experience and savvy to build on President Obama's environmental legacy," Rhea Suh, president of the NRDC Action Fund, said in a statement. "More than any other candidate running, Hillary Clinton understands the environmental challenges America faces, and her approach to solving them is grounded in the possibility and promise our democracy affords us."
"Donald Trump, on the other hand, has recently outlined a disastrous and frankly nonsensical environmental agenda — suggesting that he would tear up the Paris Climate Agreement, and that there is no drought in California," Suh said. "His plan for his first 100 days would take us back 100 years, and America cannot afford to indulge his climate conspiracy theories."
In a statement, Mrs. Clinton said she is "honored" to get the group's endorsement and that the "stakes for our children's health and the future of our planet have never been higher."
But with roughly 6 in 10 Californians approving of his job performance, Mrs. Clinton's campaign believes Gov. Brown's endorsement will carry the real weight when Democratic primary voters make their final decision. It's a stunning development that at least on the surface ends Gov. Brown's nearly 25-year feud with the Clinton family. Gov. Brown once flat-out said during a 1992 presidential debate that Bill Clinton was "funneling money to his wife's law firm for state business."
[brid video="39627″ player="2077″ title="FLASHBACK: Bill Clinton, Jerry Brown Trade Jabs at 1992 Democratic Debate"]
Sen. Sanders is campaigning hard in the Golden State, but Mrs. Clinton is now up by 8% in the PPD average of polls and needs fewer than 100 delegates to clinch the nomination (with superdelegates). The former secretary of state is expected to hit that mark on the final day of primaries, though Sen. Sanders vowed to go all the way to the convention even if he loses both California and New Jersey on Tuesday (3 other states also hold primaries on June 7).
Still, rather than the governor giving Mrs. Clinton a ringing endorsement he instead praised Sen. Sanders, saying he is "deeply impressed" with his performance in the Democratic race. He called for party unity and conceded her delegate lead was "insurmountable."
I have closely watched the primaries and am deeply impressed with how well Bernie Sanders has done," Gov. Brown wrote in an open letter to Democrat and independents. "For her part, Hillary Clinton has convincingly made the case that she knows how to get things done and has the tenacity and skill to advance the Democratic agenda. In other words, Clinton's lead is insurmountable and Democrats have shown – by millions of votes – that they want her as their nominee."
There are 475 pledged delegates are up for grabs in the state's open primary.