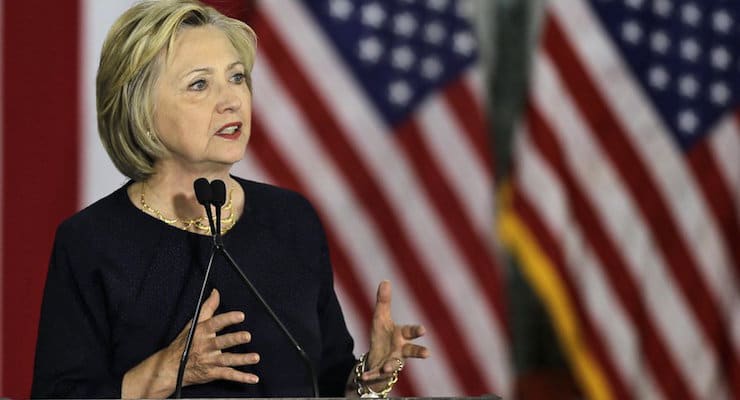 Hillary Clinton on Monday called for a sweeping gun ban on assault rifles in response to the Islamic terror attack in Orlando this weekend that left at least 50 dead. Speaking at Team Wendy on Monday afternoon, a factory in Cleveland that makes headgear to protect American troops, she said demonizing Muslims for the actions of a few would only benefit Islamists.
"I believe weapons of war have no place on our streets," Mrs. Clinton said. Though she drew implicit contrasts with Trump, she never mentioned him by name, saying "Today is not a day for politics."
The former secretary of state and presumptive Democratic nominee also said massacres carried out by Islamic terrorists in Paris and San Bernardino, Calif, resulted in hate crimes against American Muslims. In fact, according to the Federal Bureau of Investigation, anti-semitic crime in the U.S. far outweighs anti-Muslim crime and the trends continue in this direction.
She sought to use measured language and downplay the terrorist's status.
"We face a twisted ideology that inspires so called lone wolves," Mrs. Clinton said.
Omar Mateen, 29, the Muslim U.S. citizen born to Afghan parents, opened fire in a gay nightclub in Orlando, killing at least 53 people. The FBI admitted he "was on the radar before" and was twice a person of interest in terror-related investigations, once in 2013 and again 2014.
Mrs. Clinton said her anti-terror efforts would focus on identifying "lone wolf" terrorists, or Islamists who are radicalized but not connected to a broader network or acting out plans hatched by or on behalf of a terror group. President Obama also said Monday that the Orlando attacker appeared to fall into that category.
However, the Islamic State on Sunday took responsibility for the attack. Further, several lawmakers including Sen. Bill Nelson, D-Fla., as well as intelligence officials have publicly stated Mateen had a connection to organizations and other jihadists.