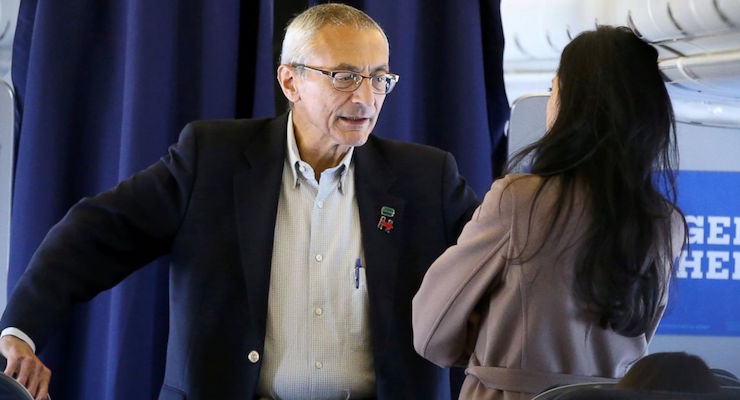 When the anti-secrecy group WikiLeaks released thousands of emails from Clinton campaign manager John Podesta, they revealed what many of us already knew. The so-called mainstream media, which will hereto be referred to as Big Media at People's Pundit Daily–is completely corrupt. Big Media outlets are not only trying to bury a slew headlines extremely damaging to Democratic presidential candidate Hillary Clinton, but they are several of the headlines.
In an email thread labeled "Subject: Re: sorry to bother…," Glenn Thrush, the Chief Political Correspondent at Politico, plays Podesta's pet "hack" and uses him as a proofreader to his upcoming puff-piece on the Clinton campaign.
"Hey sir— sorry to bother — OTR question," he writes in the thread. "Can I send u a couple of grafs, OTR, to make sure I'm not fucking anything up?"
On Apr 30, 2015, at 3:06 PM, John Podesta <[email protected]> wrote:
Sure. Sorry for the delay I was on a plane.
Thrush goes on to send him his entire story, which he acknowledges is unethical before requesting Podesta doesn't tell anyone about his new role as a "hack" for the Clinton campaign.
On Apr 30, 2015 3:00 PM, "Glenn Thrush" <[email protected]> wrote:
No worries Because I have become a hack I will send u the whole section that pertains to u Please don't share or tell anyone I did this
Tell me if I fucked up anything
After nearly six hours later, Podesta responded.
OTR: No problems here
"OTR" is shorthand for on the record.
The reason he was making it specifically clear the conversation was on the record was because he already laid out the ground rules for their relationship, which is not the adversarial relationship the press is supposed to have with those in power and those aspiring to be in power.
"I had an idea along the same lines – which was for John to invite the ten to fifteen reporters who will cover HRC everyday to his house for an off the record dinner with all of us," Jennifer Palmieri, the communications director for the Clinton campaign wrote a month before. "We would be clear that this was a social, get to know you session, and not to expect any briefing on the campaign.."
"Defer to John and Robby as to whether they think this is right moment to undertake this kind of explicit effort."
This isn't the first time People's Pundit Daily has revealed so-called "journalists" at Politico, as well as The Washington Post and NBC News, blatantly collaborating with Democrats.
Ken Vogel at Politico also used the Democratic National Committee (DNC) as a proofreader even before he handed work into his editor, an April 30 email from Mark Paustenbach, the National Press Secretary and Deputy Communications Director for the DNC revealed.
"Vogel gave me his story ahead of time/before it goes to his editors as long as I didn't share it," Paustenbach wrote. "Let me know if you see anything that's missing and I'll push back."
Paustenbach was more an editor and handler than a party's communications director, a role the Clinton campaign also decided they needed someone to fill. These journalists were all too happy to jump aboard.
"I think the best reporter to give the news to ahead of time is Greg Sargent at the Washington Post," he writes in an email dated May 20. "But, the specific reporter is not as important as getting it to an outlet before the news breaks so we can help control the narrative on the front end. Otherwise this may likely get spun in a not-so-helpful way. We should also get Rep. Cummings on the phone with that reporter."
Not a single "journalist" has been reprimanded by any of these pro-Hillary Clinton outlets, let alone reprimanded.