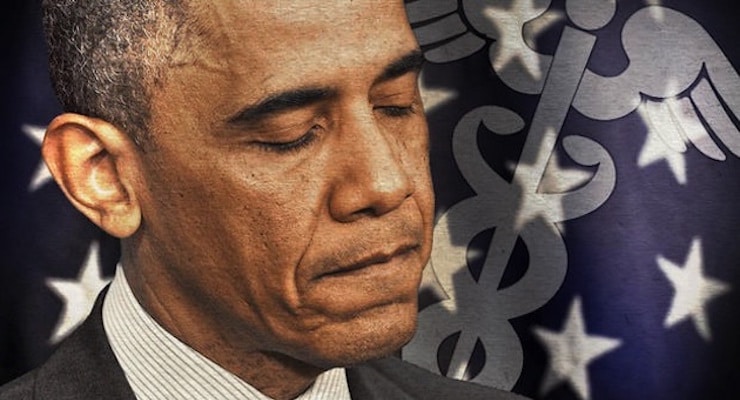 Unless ObamaCare is repealed and replaced, insurance premiums will increase by double-digits next year and many consumers will be down to just one insurer. The Obama administration confirmed Monday, through the Department of Health and Human Services, insurance premiums for a midlevel benchmark plan will increase an average of 25% across the 39 states served by the federally run online market before taxpayer-provided subsidies.
That's sure to stoke another "Obamacare" controversy days before a presidential election. To many the news is not a surprise, as HHS just confirmed state-by-state reports that have been coming in for months. Over the previous year, one healthcare giant after another healthcare giant announced they would not participate in the exchanges next year, which most experts agreed would drive up coast, as well.
Further, about 1 in 5 consumers will only have plans from a single insurer to pick from, after major national carriers such as UnitedHealth Group, Humana and Aetna scaled back their roles.
"Consumers will be faced this year with not only big premium increases but also with a declining number of insurers participating, and that will lead to a tumultuous open enrollment period," said Larry Levitt, who tracks the health care law for the nonpartisan Kaiser Family Foundation.
The latest ObamaCare comes only days before the 2016 presidential election. Mr. Obama and Democrats had worked to ensure the premium gains would not take effect until after the next president was chosen.
Republicans pounced on the numbers as a warning that insurance markets created by the 2010 health overhaul are teetering toward a "death spiral." Sign-up season starts Nov. 1, about a week before national elections in which the GOP remains committed to a full repeal.
"It's over for Obamacare," Republican presidential candidate Donald Trump said at a campaign rally Monday evening in Tampa, Florida.
Trump said his Democratic rival, Hillary Clinton, "wants to double down and make it more expensive and it's not gonna work. … Our country can't afford it, you can't afford it." He promised his own plan would deliver "great health care at a fraction of the cost."
Mrs. Clinton, the Democratic candidate for president, has publicly proposed a series so-called fixes, including increasing the law's subsidies and allowing more people to qualify for financial assistance. But privately, which was revealed when the anti-secrecy group WikiLeaks released hacked emails belonging to campaign chairman John Podesta, she secretly hoped the law would fall so that the government could completely take over the healthcare sector in a single-payer scheme.
"Headline rates are generally rising faster than in previous years," conceded HHS spokesman Kevin Griffis.
In truth, while they claim they won't pay the headline rates, the devil is in the details. For instance, for a consumer making $30,000 or $40,000, his or her subsidy would be significantly lower. In Arizona, premiums for the "second-lowest cost silver plan" will jump by 116%–from $196 to $422–with assistance covering only $280 of the new premium, and the consumer would pay $142. In other words, it has the largest impact on the working class American and their family.