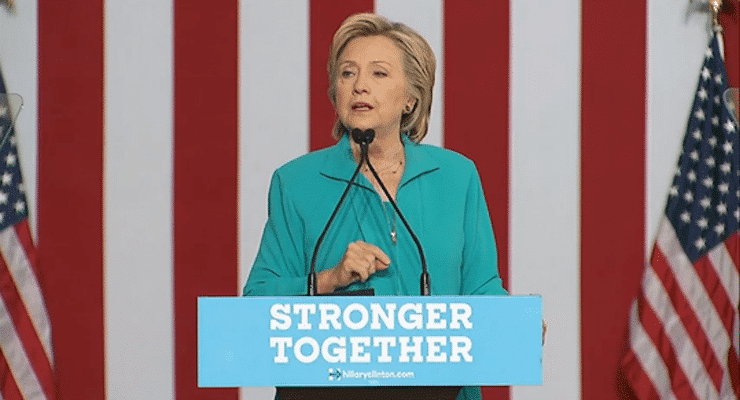 As People's Pundit Daily has repeatedly reported, Democratic presidential candidate Hillary Clinton repeatedly praised the Trans-Pacific Partnership (TPP). When she was behind closed doors with big donors and Wall Street bankers, and even asked them to "think of what doubling the trade" in NAFTA "would mean for everybody in this room" only a few months before promising the United Autoworkers (UAW) she would oppose TPP and renegotiate NAFTA.
In an email released by the anti-secrecy group WikiLeaks, Rep. Rosa Luisa DeLauro, D-Conn., who has served in her current role in Congress since 1991, wrote a telling email reading "Subject: Trade" on March 3, 2016, which further puts in doubt the credibility of the former secretary of state and congressional Democrats on the trade issue.
"Clarity, opposed, no claw backs, no dense murky language -just flat out. No lame duck vote. For trade but need a new agreement that based on inclusiveness, an agreement that doesn't leave workers or their wages behind. She will start over," DeLauro wrote to John Podesta, Clinton's campaign chairman.
The trade issue was a sticky subject for Mrs. Clinton during the primary, who lost several Rust Belt states to Bernie Sanders, who credibly opposes NAFTA and TPP. DeLauro claims to oppose the deal, as well, and even opposed Barack Obama on it in Congress. She says it was developed in secrecy except for the 500 corporate lawyers. But her email reads more like someone who is concerned about the political ramifications on herself and her party, not the economic ramifications on someone else.
"Michigan bears out the data in the Roosevelt/democracy corps poll. The issue moves the political, electoral needle. Maybe she says it tonight," he added. "Call if you have a chance. Love. Want to win."
Mrs. Clinton lost Michigan, which polls showed her holding a big lead in before the primary. WikiLeaks also revealed the Clinton campaign didn't believe the public polling, for whatever reason and, in fact, expected to lose the state.
Virginia Gov. Terry McAuliffe, a longtime Clinton ally under federal investigation for public corruption, told Politico Mrs. Clinton will support TPP if elected.
"Listen, she was in support of it," Gov. McAuliffe said before quickly trying to walk it back. "There were specific things in it she wants fixed."
McAuliffe's admission came less than 24 hours after Mr. Trump warned voters she would "betray" them and a day Mrs. Clinton told the head of the United Automobile Workers (UAW) that she would rewrite North American Free Trade Agreement (NAFTA), a trade deal her husband and former President Bill Clinton signed into law in 1993. It cost Americans millions of jobs in the Rust Belt and around the country.
Now, Mrs. Clinton promises voters on the campaign trail she will oppose both deals. But in speeches she was paid several hundred thousand dollars a pop to give, her public promises don't match her private rhetoric.
"Greater connections in our own hemisphere hold such promise," Mrs. Clinton said, praising TPP in a paid speech to Canada 2020. "The United States and Canada are working together with a group of open market democracies along the Pacific Rim, Mexico, Colombia, Peru, Chile, to expand responsible trade and economic cooperation."
Before Democrats began towing the party line, the outrage over Mrs. Clinton's flip-flop on TPP was bipartisan.
"Wow! That's a reversal!" said former Maryland Gov. Martin O'Malley, a former rival and 2016 Democratic hopeful. Reince Priebus, the chairman of the Republican National Committee, said Mrs. Clinton's flip flop is "a case study in political expediency."