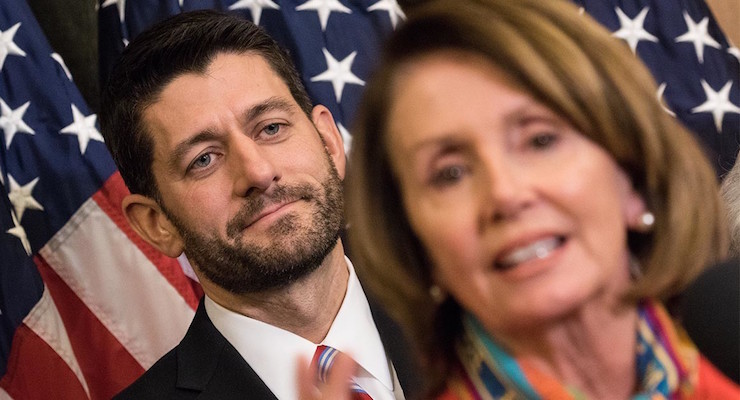 Rep. Nancy Pelosi, D-Calif., was re-elected to an eighth term as the leader of House Democrats despite a challenge from Ohio Rep. Tim Ryan. Minority Leader Pelosi's re-election comes after she promised and failed to regain control of the lower chamber and as a great disappointment to the wing of the party that recognized why they have taken such heavy losses throughout Barack Obama's presidency.
"Clearly, this didn't turn out the way we wanted," Rep. Ryan said after the vote. "We knew it was going to be an uphill battle. … We needed to get out the economic message. I'm disappointed, but I think the party's better off because of this."
In Rep. Ryan's home state, Democratic presidential nominee Hillary Clinton was defeated by President-elect Donald J. Trump by nearly double-digits, 52.1% to 43.5%. It was the first time a Republican managed to carry the battleground state since 2004 and the largest margin since 1988. George W. Bush won it over John Kerry in 2004 by only 2 points.
But this time, hundreds of thousands of voters who backed President Obama in both 2008 and 2012 voted for President-elect Trump over Clinton and incumbent Sen. Rob Portman over Clinton-ally and Democrat Ted Strickland.
"If this isn't a full-blown display of how tone-deaf the Democratic Party has become, then I don't know what is," said Rich Baris, who designed and oversaw PPD Polling during Election 2016. "Mr. Ryan is from the Rust Belt, from an area where Democratic candidates were routed because they lost touch with working-class Americans. Replacing Pelosi with someone like that would've sent a signal to these Americans saying, 'hey, we heard you.'"
Still, some members were optimistic that they at least made their point, including Ohio Rep. Marcia Fudge. She, along with the few House Democrats who backed Ryan, insisted the effort to replace Pelosi was not a failure.
"We didn't lose today," she said, interrupting reporters at the post-vote press conference. "We now have a leadership team that listens to us. … Today, we made our caucus more representative of our members."
But the numbers don't lie and they aren't confined to the House of Representatives. From 2008 to 2016, the Democratic Party has lost a net 9 seats in the U.S. Senate, 63 in the U.S. House of Representatives, 13 governorships, 949 state legislative seats and full control of 29 state legislatures.
The net 63-seat loss in the House under Pelosi tops the closest presidential tenure during the Nixon-Ford era by 14 seats. In other words, Democrats under President Obama underperformed their party's candidates during Bill Clinton's impeachment in the 1990s and their rival GOP candidates during and after the WaterGate scandal.
Yet, despite the effort by members who are forced to defend working-class districts in 2018, House Democrats largely filled the top leadership roles with East and West coast liberals. Not a single one is from the heartland or the Rust Belt.