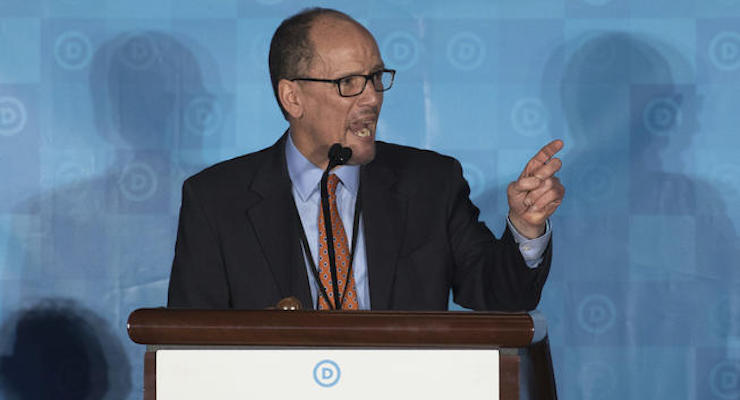 [brid video="128388″ player="2077″ title="DNC Chair Tom Perez Rants That Donald Trump Didnt Win The Election"]
Democratic National Committee (DNC) Chair Tom Perez said during a rally rant Friday night that President Trump "didn't win this election" and Republicans "don't give a shit" about voters.
"Donald Trump, you don't stand for our values," Mr. Perez said. "Donald Trump, you didn't win this election."
Before calling the president's legitimacy into question, he praised protestors who showed on Inauguration Day. These protestors, in D.C. and elsewhere, were holding signs that read "Not My President" and "Impeach Trump" even though he hadn't yet taken the Oath of Office.
When it became clear to him that he might have overstepped with his comments, Mr. Perez said he doesn't "care" if people are upset with his speech because "Republicans don't give a shit about people."
The event, which was hosted by the New Jersey Working Families Alliance, comes as the party attempts to reconnect with working class Americans who abandoned them in droves over the last ten years. Mr. Perez, the former controversial Labor Department Secretary of Barack Obama, recently asked the entire DNC staff to submit resignation letters took over after a slew of electoral disasters for the Democratic Party.
From 2008 to 2016, the Democratic Party has lost a net 9 seats in the U.S. Senate, 63 in the U.S. House of Representatives, 13 governorships, 949 state legislative seats and full control of 29 state legislatures.
Going into an election pundits proclaimed they were certain to win from top to bottom, they held full control in only 7 states. Now, they only hold only 5–California, Delaware, Oregon, Hawaii and Rhode Island–after the GOP tied it all up in the Connecticut state Senate.
New Republican National Committee (RNC) Chairwoman Ronna McDaniel responded to her counterpart's comments in an email.
"Chairman Perez's comments are dangerous and undermine our democratic process," Chairwoman McDaniel said. "Perhaps Mr. Perez needs a lesson on how the Electoral College works but whether he likes it or not, Donald Trump is our president," adding "Democrats are the minority party because of comments like those, and if he thinks this is the way back from the wilderness, he's sorely mistaken."
In April, a so-called unity commission will begin work on recommendations for a number of party issues, including changes to the nominating process. The anti-secrecy group WikiLeaks released emails just before the Democratic National Convention revealing the DNC worked to help Hillary Clinton during the nomination contest against Vermont Sen. Bernie Sanders.
Rep. Debbie Wasserman Schultz, D-Fla., resigned in the aftermath but was replaced by another disgraced chairwomen–Donna Brazile. WikiLeaks revelations during the general election showed Brazile leaked debate questions while at CNN to the Clinton campaign, something she initially denied. She compared her "persecution" to Christian persecution by unnamed persecutors before the overwhelmingly evidence caused CNN to cut ties with her.
Still, the party is not yet united in their efforts to rebuild a coalition, definitely not since Mr. Perez secured his position using internal threats for officials intending to back for Minnesota Rep. Keith Ellison instead of him. Rep. Ellison, the first Muslim elected to the U.S. House of Representatives, was previously the favorite and was backed by the hard leftwing of the party, including Sen. Sanders.
But he was derailed when his anti-semitic views were revealed in audio and publicly opposed by predominant Jewish members of the party, such as Alan Dershowitz.